Drafting. Aero. Slingshot passes. High-speed chess match. Say these things to anyone who loves auto racing, and they'll all think the same thing: Daytona. The chance to race on the high banks – even win – is any racer's dream. Over the holidays, seven NHKA Racing Series drivers will be living that dream, and there's room for an eighth. Will it be you?
It's the WKA Daytona Road Race Championships on the circuit made famous by the Rolex 24 at Daytona. That means a dash through the infield followed by a nearly 2.5 mile tour of the tri-oval at speeds solidly over 100mph. You can feel the pull of the draft like nowhere else. And the banking? Take one glance to your left and you'll learn all you need to know about 33 degrees.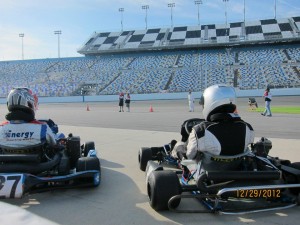 Team NHKA – The Veterans
Making the trip will be a solid contingent of TaG racers, and one very new shifter kart driver. NHKA race director Mike Camarra will be supplying the transportation with the CFMotorsports trailer. It's been years since he has raced there, and even with 100+ wins the man still craves the big trophy from the big track. Tom Prioli, the owner of the NHKA's title sponsor Checkered Flag Indoor Karting, will also be making what he and his dad Ron hope is a triumphant return to the speedway. Last season it was at Daytona that Keith Buffo earned his first of ten wins beginning his sweep of both TaG national championships. This year the road racing veteran goes green with his gearbox debut in Stock Honda.
Team NHKA – The Rookies
There's nothing like your first trip to Daytona… That drive through the tunnel, coming out surrounded by a ribbon of black magic. Dave Nadeau will know that sense of awe. The World Formula and TaG Sr. regular will be looking to put an often frustrating sophomore season behind him with a red-hot start to 2014. Canadian racer Dave Couchesne, who took much of the season off for a tour of NASCAR tracks, will now get to race one of his favorites. NHKA point meister Jim Slade is no stranger to road racing, and neither is Noel Farrelly. The two TaG Masters standouts will be looking to take their winning ways
More New England Racers
WKA's big-track races are often well stocked with accomplished drivers from NHKA's road racing days. The Team NHKA racers will be working closely with two-time national champ Don Guilbeault and his always dominant DRT Racing team. Other New Englanders expected to attend include Daytona shifter winner Don Santini; laydown enduro karters Fran Mazzucotelli, Bill and Adam Trumbley; and Yamaha sprinters Ted Carbonaro, Eric Stockford and our district's 2-cycle rep Jim Sorrentino.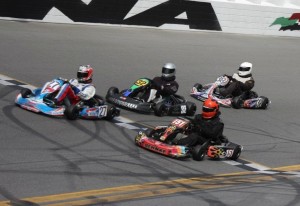 Room for One More!
Wish you were going too? You can! There's room in the trailer for one more kart. Join us! This is the first time in years such a large group of local racers has organized itself for this event. You'll be with people you know, supported by veterans who know what they're doing, having a blast on and off the track. If this sounds like the race of a lifetime, that's because it is. There's still time to get your kart up to snuff, but not much. Call Mike at 617-448-0917.
Root for the Home Team
The morning after Christmas, while you're still picking scraps of wrapping paper from the carpet, and the new hasn't worn off the kids' toys, Team NHKA will be filling their tanks with coffee for the long haul south. Be sure to follow their progress on Facebook and the eKartingNews Road Racing forum.
---
Just because the NHKA Racing Series has wrapped up 2013, that doesn't mean the NHKA racers are ready to call it a season. That's because there's still lots of competition to be found down at F1 Outdoors.
November 2nd & 3rd – The F1 Club Series holds open practice on Saturday, then closes out their series on Sunday with a full day of racing.
November 9th & 10th – Saturday is open practice for any kart. Sunday is the annual F1 150 Endurance Race for TaG Juniors, Seniors, Masters, and Sportsman teams of two drivers. And for the first time there will be a 75-lap race for World Formula Light and Heavy drivers. These races always draw strong grids, offer tons of on-track excitement and a long winter's worth of bragging rights. You can read the complete rules by clicking here, and everything you need to know about racing at F1 by clicking here.
Then barely a week after things cool down at F1 Outdoors, Checkered Flag Indoor Karting cranks up the heat with their World Formula Indoor Karting Championship. If you want to learn how to drive a kart slide-ways (and you should!), spend your winter trying to figure out how to lay down 15 HP on CFIK's tight and slick track. Read all about it by clicking here.
---
First-time champs in their first season and others in their 14th. Veterans taking home the big prize yet again. Two young ladies who put in a lot of work behind the wheel. A local racer who gives other local racers tons of support. Kids and kids with quite a bit of gray hair. All these drivers rocked it all season long!
Kent Vaccaro – Cadet
Oliver O'Brien – Micro Max
Jonathan Teixeira – TaG Junior
Fast Freddie Fawcett – Tag Senior
Steve Hathaway – TaG Masters
Paul Bowin – 2-Cycle Senior
Anna Pellegrini – LO-206
Abigail Tobin – World Formula Junior
Rick Brown – World Formula Light
Tom Prioli – World Formula Heavy
Maximux G-Rod Legsdin – 125 Shifter
---