Canaan Motor Club

So much speed and flow! Canaan Motor Club is a buttery-smooth 1.3-mile road course with high-speed straightaways, fast sweepers and tight technical sequences, including off-camber exits and elevation changes. You'll face the fastest corners you've ever driven… like the the pit stretch kink. Can it be taken flat out? Some of the best have gone for wild rides into the infield trying, all without injury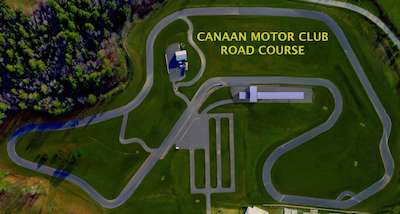 or damage thanks to the track's safe design. With speed comes wheel-to-wheel draft racing green to checkers. When you come to Canaan, bring all your racing skills – You're gonna need them!
Directions
18 ORANGE RD, CANAAN, NH 03741 From points south, take 93N to 89N, Exit 17 to Rte. 4 East for about 13 miles. When you get to Canaan Village, bear left onto 118 and very shortly turn right onto Cardigan Mountain Road. Look for the NHKA sign on the right and turn into the property there.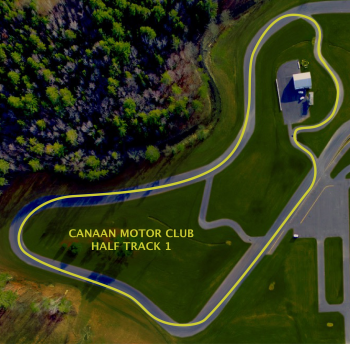 Track Configurations
.4 MILE KART TRACK: Kid Karts
.7 MILE HALF TRACK 1 and .9 MILE HALF TRACK 2: All classes except Kid Karts
1.3 MILE ROAD COURSE: Classes 15+ years, Half Track 1 in rain

Typical Race Weekend Schedule
EVENING BEFORE EVENT
5-9PM Gates open for those camping or dropping off trailers
Registration and pre-race safety tech open
RACE DAY
7AM Gates, safety tech and registration open
8AM Mandatory drivers meeting
8:30AM Two practice sessions with timed qualifier
12 NOON Lunchbreak
ROAD COURSE RACING One 30-minute race, standing start
HALF-TRACK RACING Heat and Final by laps. Rolling start.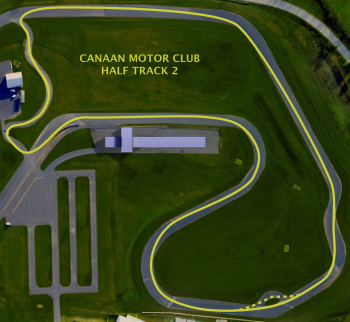 *Times are approximate and subject to change

Important Rules for Canaan
NO RACE ENGINES BEFORE 8:05AM
DO NOT WORK ON KARTS OVER ASPHALT: Not on the grid, not on the racing surface or even in the paddock. Stains on the pristine asphalt at Canaan stand out. Even lube flung from a chain leaves an ugly stain. The asphalt is extremely reactive to fuel… it literally dissolves. You must be very careful. If an accident does happen, tell Mike or Lee IMMEDIATELY so they can hit it with a spill kit ASAP.
PIT ON THE GRASS ONLY: When you arrive, Greg "Parking Czar" Clear will direct you to the best available pit spot, which will be on the grass. Please do not leave your kart sitting on the asphalt or your trailer ramp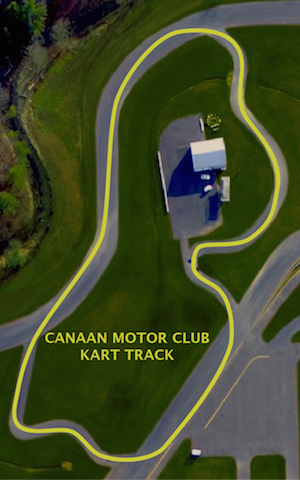 open onto the road. The only way for the ambulance to leave the property is through the paddock area. Seriously, you do not ever want to be responsible for delaying it.
HELP LEAVE THE PADDOCK CLEANER THAN WE FOUND IT: That means before you leave, please pick up every small bit of paper, wire tie clipping, cigarette butt, etc. from your pit area and the ones around you. Even if it's not yours, and especially if it was left by another group. This is a HUGE priority for the track owner and manager. Being the cleanest, most respectful group to race here has created an excellent working relationship with this highly in-demand facility.
MIND THE CONES AND ROPES: These mark the hot grid (where karts stage in their starting positions to go out on track) and the adjacent pre-grid area in the grass – where you can warm your engine and spray forgotten chain lube. We also rope off a path from pit-in to the scales. There are two spectator on either side of the grid/scale areas.
Local Amenities
Little Canaan Village has a lot to offer. There's a hardware store, a large convenience store and a couple gas stations. There are also a couple pizza/sub shops, a diner, a Chinese restaurant and if you're lucky you'll catch the guy with the smoker serving up BBQ across from the common. If you rather not leave the track, you can pop into the building near the gate for breakfast and coffee, and while you're there put in an order for lunch.
So Much More than Racing!
About an hour north of Concord, NH, the track is in the beautiful small town of Canaan, with its lovely lake and Mount Cardigan's hiking trails and rewarding views. Hanover, NH, the home of Dartmouth College, is just 20 minutes to the north and full of all the amenities you'd expect in an Ivy League town. Just 40 minutes up 89 are the attractions of Central Vermont, including quaint Woodstock and the Quechee Gorge. Or you can enjoy a leisurely drive east through the countryside to New Hampshire's Lakes and White Mountains. When you race at Canaan, you'll be right in the middle of everything that's great about New England. So gather up your loved ones to turn a race into a family vacation.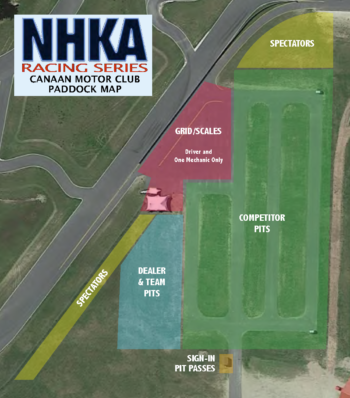 Where to Stay
Racers are welcome to camp trackside for $25, paid directly to the track when you buy your pit pass. There are no showers or electricity at the track (yet.) Grills and fires contained by portable fireplaces are allowed.
There are also plenty of hotels and B&Bs in the area:
Hotel Coolidge, White River Junction, VT 802-295-3118
Comfort Inn, White River Junction, VT 802-295-3051
Courtyard Marriott, Lebanon, NH 603-643-5600
Days Inn, Lebanon, NH 603-448-5070
Fairfield Inn and Suites, White River Junction, VT 802-291-9911
Hampton Inn, White River Junction, VT 802-296-2800
Holiday Inn Express, White River Junction, VT 802-299-2700
Residence Inn, Lebanon, NH 603-643-4511