Race Procedures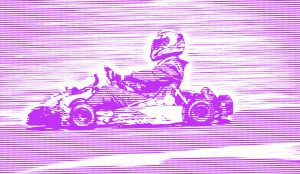 On-track Sessions
• 2 Practice Sessions: By practice group
• Qualifying: By race group
• Final Races
No starting race engines before 8:05am.
Practice groups and race groups are set by age and speed. The classes that compose each group, and running order, are posted near the grid. Race groups and running order are posted in time for qualifying, and can differ from practice groups and order, so be sure to check.
All karts and helmets must receive a pre-race safety inspection and sticker before going out on track, as well as proof of registration, or be subject to disqualification.
All drivers must attend the drivers meeting. Drivers who are minors must be accompanied by a parent or legal guardian.
Transponders are required for all on-track sessions. Must be mounted to the seat back or side rear of the seat mount. They may not be carried on the driver's person (i.e., in a pocket.) Those without transponders (or with malfunctioning transponders) during scored sessions will be scored in last place. Transponders are available to rent from registration.
Flag and track rules will be discussed at the mandatory drivers meeting. Flagging violations are at the discretion of the corner workers. If a flagging violation is protested, NHKA officials and the corner workers will confer. Final decision of violation will be decided by the corner workers. Penalties will be decided by NHKA Officials.
Drivers who do not meet the minimum weight and technical specifications for their class will be disqualified and will receive -2 points.
Protests for finishing results and disqualifications must be presented in writing within 30 minutes of the conclusion of the race.
NHKA and its host tracks are not responsible for lost or stolen equipment and or possessions.
All NHKA officials, drivers, members, crew, families, etc. are expected to conduct themselves in an appropriate manner. Disrespectful or detrimental behavior by any person will be subject to permanent suspension.
Championship Points Structure
1st Place: 100 points
2nd Place: 90 points
3rd Place: 85 points
4th Place: 80 points
5th Place: 75 points
6th Place: 70 points
7th Place: 65 points
8th Place: 60 points
9th Place: 55 points
10th Place: 50 points
11th Place: 45 points
12th-Last Place: 40 points
Points are awarded for the final race only. Only NHKA Racing Series members receive championship points.
One Drop Race The lowest scoring race of the season will be dropped from the final calculation of each driver's final championship points total. This may be a race not attend, but will not be a race missed due to suspension. If a race is cancelled, that race will be everyone's drop.
Disqualification -2 points will be given for a disqualification and will NOT be the drop race in final championship points calculations.
Did Not Start (DNS) If for whatever reason a driver is unable to start the final race, so long as the entry fee has been paid and the kart is presented to the grid by the driver (or they have spoken directly to the race director in advance) the driver will receive points for the position after the last kart scored on the track. If more than one driver is to receive DNS points, they will be sorted by qualifying result, then by least annoying. Special circumstances may apply at the discretion of the race director. No-show to the grid or event will result in 0 points.
Tie Breaker In the event of two drivers having equal final season championship points (after calculating the drop), the tied position will be awarded to the highest finishing driver in the last race of the season.
A driver must participate in at least six races to be eligible for year-end awards in a particular class.
Safety
Safety is the primary concern at all events. Kart racing has certain inherent risks of injury, even death. Each competitor assumes those risk when they participate in an event. While measures are taken to reduce those risks, they cannot be eliminated. Please read the Waiver and Release of Liability. Copies are available at registration.
All drivers must wear all the required safety gear to enter the race course. Responsibility for the quality, condition and correct use of the equipment falls upon the competitor, or parent/legal guardian of a competitor who is a minor. Any driver who loses any gear on track will be black flagged.
Helmets All helmets must be full-faced and designed for kart, motorcycle or open-wheel car racing. All helmets must be inspected and tagged during pre-race safety inspection. Must be Snell 2015 or higher or SFI approved. Note: DOT is not a racing designation.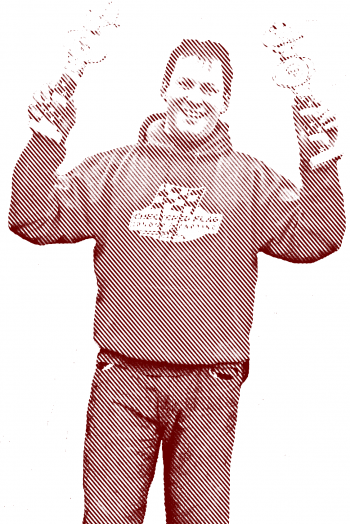 Snell Foundation Ratings
SA, M or K 2015
12/31/2025
CMR or CMS Youth 2016
12/31/2026
SA, M or K 2020
12/31/2030
SFI Requirements
24.1/2015 (Youth)
12/31/2025
31.1/2015
12/31/2025
41.1/2015
12/31/2025
24.1/2020 (Youth)
12/31/2030
31.1/2020
12/31/2030
41.1/2020
12/31/2030
All 2020 Snell and SFI Ratings are Legal
No Longer Legal: Snell SA, M and K 2010.
SFI 24.1/2005 (Youth), 31.2a, 41.2a,24.1/2005,
3.1/2005, 41.1/2005
Driving Suit Must be of abrasion-resistant material specifically designed for kart or motorcycle racing. Leathers are OK. Must be of appropriate size. No exposed ankles, wrists, neck or other skin. Note: Nomex fire-resistant auto racing suits are not abrasion resistant.
Gloves Must be manufactured for racing and worn at all times on track.
Shoes Racing shoes highly recommended. Work boots or high-top sneakers are allowed upon inspection.
Neck Protection A neck collar, neck roll or neck device must be used. Must be in original manufactured condition. No modifications.
Rib & Chest Protectors Rib protectors are recommended for all drivers. Chest protectors are required for drivers under 12 years of age.