New to Karting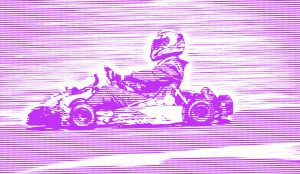 Do you have the itch to get on track and race wheel-to-wheel? Then it's time for you to get a high-performance racing go-kart and join the fun of the NHKA Racing Series.
NHKA has been hosting races at Canaan Motor Club and other area tracks for years. This is real racing at every speed and budget for everyone: Men and women of all ages, as well as boys and girls 5-years old up to teens who actually look forward to spending an active day with their parents. It's a true family atmosphere where it's not unusual to see two generations of racers pitted together.
With safety and fun as our highest priorities, the NHKA provides a fair and highly competitive environment for real people to enjoy real racing.
Step 1: Come See a Race
The best way for you to see what the NHKA Racing Series is all about is to come to the track to experience a race for yourself. You'll see some great wheel-to-wheel action, get to check out different types of go-karts, and feel welcomed as you walk around the pits and talk with racers of all ages. Don't be shy, ask lots of questions! We're eager to help you get out there racing with us!
Step 2: Apply for NHKA Membership
Let us know you're interested in racing with us by sending a NHKA membership application to [email protected]. We'll reply with information about attending the NHKA Safety and Driving Course.
Step 3: Attend the NHKA Safety and Driving Course
All drivers new to the NHKA must successfully complete this course regardless of other racing experience. These classes are held at the track and consist of instruction as well as on-track observation and feedback. Topics covered include the flags, race procedures, driver conduct, kart and driver safety equipment and more. If all goes well, you'll be approved for NHKA Membership and eligible to enter your first race!
NHKA Karting Safety Course Schedule
May 13: Canaan Motor Club
June 3: Canaan Motor Club
Step 4: Get a Kart
Yes, you're gonna need a kart… you'll look pretty funny out on the track without one. Seriously, there are NHKA Authorized Dealers that can sell you a new or used kart, then will support you at the track with all the parts and service you need. Some will even rent you a ride to try it out. Click here to find the shop nearest you.
Getting Started FAQs
What is karting? Let's start with what it's not: It's not anything like what you might find at an amusement park or in a backyard. The karts we race are true high-performance machines built specifically to compete on real racetracks. Karting is where most every racing superstar got their start, and where many still sneak off to every chance they get. The likes of Verstappen, Vettel and McMurray still race karts. Now it's your turn.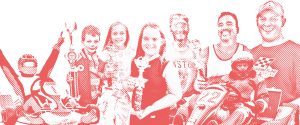 Who can do it? Just about anyone! We have men, women, boys and girls who race. There are separate classes for kids young as five, up to our popular 32+ TaG Masters class. We've had members who raced well into their sixties! If you've always loved racing, and always thought "some day", you're day has come.
How do I start? The first thing you should do is pick a race from our schedule and come spend a day with us at the track. When you pull into the facility, you'll see where to stop near the gate to buy your pit pass. Inside, you'll see lots of intense racing and lots of different karts. Walk around the paddock, ask questions. You'll find everyone super friendly and eager to help you find your way into the sport. Click here for info about coming to watch an event.
What kind of kart should I get? That depends on the racer. The various kid karts gradually increase performance in pace with ability and age. Adult karts come in varying degrees of performance and costs, so it's jut a matter of finding the one that's just your speed.
5-8 Years Old – 2-Cycle or Briggs 206 Kid Kart
7-12 Years Old – Briggs 206 Cadet
12-15 Years Old – TaG Jr., Briggs 206 Jr.
15+ Years Old – TaG Sr. & Masters, World Formula Light & Heavy, Briggs 206 Sr., KZ or Stock Moto Shifter
32+ Years Old – TaG or Briggs 206 Masters
Click here for a detailed listing of karts and classes. You might also find this comparison of 4 vs 2-Cycle karts helpful.
Besides a kart, what else will I need?
A ROLLING KART STAND: This is a must; it elevates your kart so you can work on it, and makes it easy to push your kart around the pits. Most folks ask a fellow racer to help them lift their kart onto the stand, others buy a motorized stand that does the lifting for them.
A SET OF BASIC TOOLS: Wrenches, screwdrivers, allen wrenches and a socket set (most karts have metric hardware.) Start there, in time you'll figure out exactly what you need.
TRANSPORTATION: You'll need to get your kart to the track or shop. Some racers use a pick-up truck, van, SUV or station wagon, others have a small open trailer, others a tricked-out enclosed trailer that's like a rolling shop.
CANOPY AND FOLDING TABLE: Karting is supposed to be fun. Crawling on the ground sunburnt and/or drenched is definitely not fun. Click here for a complete packing list for racers.
Do I need to be a mechanic? It sure doesn't hurt, but it's not required. Everyone goes through a learning curve. Experienced karters will happily show you how things are done. There's tons of info on the internet (some of it even helpful.) Working directly with a kart shop that provides track-side support at NHKA races is a great way to ease your way into the mechanics. Learning to maintain your kart to withstand the rigors of racing, and figuring out tuning tricks to make it faster, are important parts of the game that extend the fun from the track to your garage. Under the INFORMATION tab of this website's menu, you'll find a group of pages under the WRENCHIN' tab, like this handy Pre-Race Kart Prep checklist.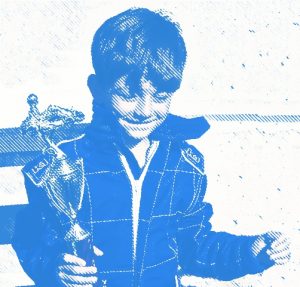 Can I race my kart anywhere else?
You bet you can! NHKA works closely with other regional series to avoid scheduling conflicts and sync our classes and technical rules. Our goal is to make it easy for our racers to enjoy the freedom of racing whenever and wherever they want.
Do we race in the rain? Yes we do… and it is a lot of fun! However, special rain tires are required when the Race Director declares a rain race. We may pause on-track activities to let an intense downpour pass. We may cancel the remainder of an event if it starts raining towards the end of the day, or the Race Director determines that track conditions are unsafe.