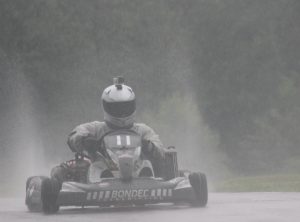 Let's start by getting this out of the way: Yes, rain is likely at least part of the day Saturday, but temps should be in the 60s. Yes, we will be racing. No, there's nothing Mike can do about the weather. Yes, if Ayrton Senna raced with us, you bet your rear bumper he'd be there.
It's time for Race 2 of the NHKA Racing Series powered by K1 Speed. This will be our competitors' first shot at the always challenging New Hampshire Motor Speedway Hill Course. This crazy mashup of massive elevation changes, long straights, super-tight hairpins and the famous sweeping bowl turn produces unexpected results all the time, but add rain and just about anyone could be standing on the podium. The only sure way to take yourself out of contention is not to show up. And if the level of competition we saw two weeks ago in Canaan is any indication, you can't afford to skip a race just because of rain. So break out those Senna videos to remind yourself how much fun it is to race on a wet track.

Big shout out to Apex Kartsports for sponsoring Saturday's trophies. Since way back when the NHKA first made the shift from road racing to sprint, George and Alex Vorrilas have been major supporters of the club and its racers. We appreciate everything they do, and so should you. Be sure to let them know it when you see them at the track Saturday.
New Friday Load-In Procedures at NHMS
For most events, including this weekend, racers are welcome to enter the track after 6:00pm on Friday. We'll give you as much notice as we can if that time changes. You can just drop your trailer in a great pit spot and leave, or you can purchase a $25 camping pass from the track at the front gate and enjoy a pleasant and productive evening with your racing family getting set-up and registered. Please note: the front gate will be locked at 10pm. There will be positively no admittance after that time, even if we really like you. The front gate will reopen at 7am Saturday morning. The members only warmup will be at 8:30am, followed immediately by the drivers meeting. Please remember, no starting of race engines until 8:05am.