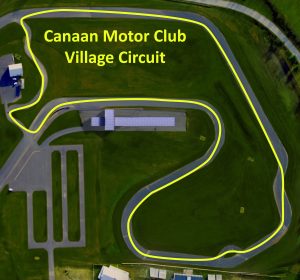 We hope you like surprises! Race 1 of the 2017 NHKA Racing Series Powered by K1 Speed will be the club's first time on the right side of the Canaan Motor Club (let's call it the Village Circuit and see if it sticks.) Race Director Mike Camarra says the layout will be very similar to how that end of the track was set up for Kart Mania last year. Which means there will still be a chicane at the end of the back straight due to the old dirt oval's concrete wall. It's going to be a gearing challenge for everyone with long straights and fast sweepers punctuated by a couple very tight turns. And let's not forget the blind off-camber Speedway Turn. This is going to be fun.
A couple important last minute items you need to know…
Friday Entry 6-9pm Only Our new contract with the track stipulates that only NHKA Officials and regular workers, and those with advanced explicit permission, will be allowed on the property before 6pm on Friday for this and every race at Canaan this year.
No Race Engines Before 8:30am Again per our new contract with the track, there will be no running of race engines before 8:30am. All of last year's noise abatement measures will also be in effect: Air boxes for all 2-cycle karts including all shifters. 14" silencers for Stock Motos. No loud music, excessively loud generators or yelling at night (Mike is still allowed to yell whenever he feels it necessary.)
Hot Track 9am-5pm We only have the track for a limited time, so we're making some tweaks to the morning schedule to make sure we get in all the racing. Gates will open at the usual 7am Saturday morning, and so will registration. Please go register as soon as you park. The drivers meeting will be at 8:30am sharp. The new circuit will have new procedures, be there so you don't end up being THAT guy. Finally, we will not be having a Members Only Warm Up. Instead, at 9am we'll go straight into the usual two rounds of group practice followed by qualifying.
That's it for now. We're looking forward to a big crowd and fun racing. See you there!