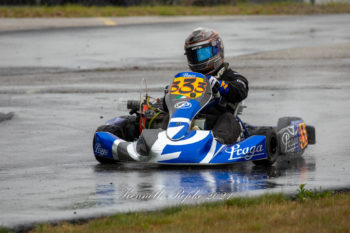 NHKA Race 2 was certainly cold and wet. It was also huge and a lot of fun. For many of you, it was your first taste of rain racing and most handled it quite well. Whereas some of our experienced drivers… hmmm… not so much. That's fine. Constant learning and the chance to do better next time are big parts of what keep us coming back to the track to try again.
Big thanks to everyone for adapting so well to the rain tire situation. Shipping delays left us hanging without adequate supply, forcing us to open the tire rule so shops and members could dig into their back stock of old and used rains. This made it possible for pretty much everyone with rain wheels to race. However, it demonstrated the speed disparity between brands and compounds, reinforcing the need for the NHKA to institute a strict rain tire rule. If you bought new non LeCont tires for Race 2, we'll work with you best we can. But from now on, the only new rain tires allowed will be LeCont, which are now fully in stock from the NHKA and NHKA Authorized Dealers. Stay tuned for more on this.
Onward to NHKA Race 3 on June 26th. We're expecting another large turnout. You can register now on www.bikereg.com/nhka or print and mail your entry by clicking here. Deadline is midnight Tuesday June 22nd. Once again, there will be no registrations accepted late or at the track, and no amount of begging and bribery will change that, so register now!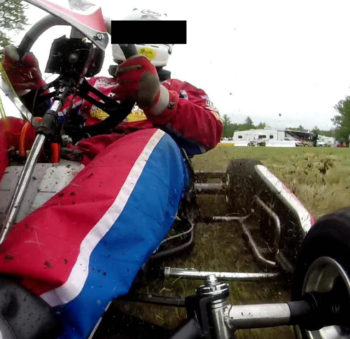 We'll be back at NHMS on the Hill Course. The times and procedures will be mostly the same, but this time we'll be racing counter-clockwise – and hopefully in the dry! We will also be instituting a new procedure to thin out the crowd around the grid and scales. Each driver will be issued one lanyard which your helper will need to be allowed in the grid and scale areas. (Special exceptions can be discussed.) There will be a designated route for the rest of your guests to access the spectator areas without adding to the busyness of nearly 30 karts heading out while another thirty are coming in.
Points: Jim and Mike are still working on the championship points standings. Several classes have required scoring adjustments due to multiple attempted reenactments of Dale Earnhardt's pass in the grass. Unfortunately, in most cases, the only thing being passed was the scoring loop… by as much as twenty feet in some cases. We realize it is useless to ask racers to slow down. So, from now on, if you miss the scoring loop for any reason other than being forced off the racing surface, that lap will not be counted. It's this or a pit of alligators. Cast your vote on the Facebook page. And watch for more updates race week.