Thank you to the more than 180 competitors who registered for NHKA Race 3 this Saturday at New Hampshire Motor Speedway, making it the club's biggest event ever, again. Registration is now closed, and no late entries will be accepted before or at the race. No exceptions.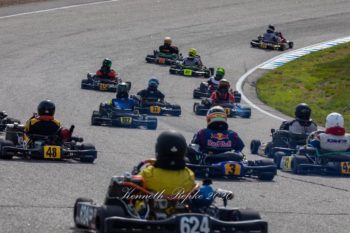 Of course all this rapid growth is amazing, but as an organization it is challenging to keep up. We're working to hire more staff and adapt procedures to accommodate the influx. To that end, we will continue to limit drivers to three guests. We will also limit drivers to one helper on the grid and at the scales, which we will be control by issuing each driver a helper's lanyard which will be required to enter the gated grid/scale area. (Exceptions will be made on a case by case basis.) We are also establishing spectator areas at the grandstand site overlooking the bowl and along the fencing at the chicane.
With so many drivers and race groups we want to make sure we have enough day to squeeze it all in and get everyone the track time they expect. To do this we're trying a new race day format: Beginning as close to 8:30am as we can, we will have two rounds of group practice and extend those sessions to as long as 10 minutes. Then we will break for lunch, after which each group will have one 5-minute qualifying session. There will be no prefinal races, instead we will run longer 20-lap finals. This is subject to change as the day goes, but according to Race Director Mike's calculations this will ensure racers get in as many laps or more than they did at Race 2.
As usual, the drivers meeting will be at 8:15am. It is mandatory for ALL drivers. Anyone not in attendance will be subject to disqualification for the day.
Group Order
1 Kid Karts (on track 4 times, finishing at lunch)
2 TaG Masters/ TaG jJunior
3 206 Cadet/TaG Mini
4 World Formula Light
5 206 Senior
6 Shifters
7 TaG Senior
8 World Formula Heavy
9 206 Masters/Junior
We will be on the Hill Course, the same circuit as Race 2, but we will reverse direction and go counterclockwise. Friday night and Saturday morning entry procedures will also be the same.
Friday Night Entry 7-9pm: Campers (fee paid at front gate) and trailer drop off must enter during this time. Late arrivals will be turned away at the front gate. Signin will be available in the grid/scale area along with safety tech.
Saturday Morning Entry 6:30am: Form a double line with your vehicle and pull forward when you can. DO NOT stack out onto Rte. 106. Please don't get out until you are directed that it is your turn to signin.
Pit Passes: Whether you sign in Friday night or Saturday morning, all your guests (up to three) must be with you to purchase pit passes at the same time. We will not hold wristbands for late arrivals, and you may not purchase extra wristbands to hand out later.
Safety Tech 7am: Inspections will be in within the gated grid area. All karts must pass safety tech before going onto the track.
Masks: We will not require any masks or PPE anywhere on the property. Please be respectful of your fellow racers' choices. NHMS is still requiring all attendees to sign their covid waiver. To make things go quicker at signin, please print and fill out the NHMS waiver at home.