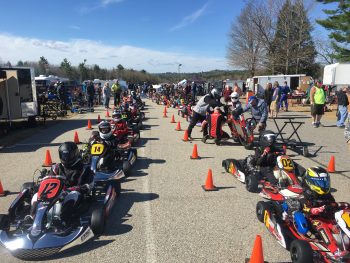 We did it! The NHKA's biggest event. We have 174 entries signed up for Race 2 this Saturday May 29 at NHMS. Plus we've got more card carrying members than ever before. It's definitely an exciting time to be part of the NHKA and we appreciate everyone's support! Here are your final updates going into the big day…
Registration: Registration is closed. No late entries will be accepted now or at the track. No Exceptions.
Memberships: Speaking of memberships, if you aren't already one this is your last chance to become one and have the points from the first two races count towards the 2021 championship. That means if you submit your 2021 membership form after the end of the day Saturday you will only be credited with points starting with Race 3 or after. In other words, no waiting until the end of the season to see what kind of trophy you'd be getting. (We're on to your tricks!) Remember, if you got a membership in 2020, you're all set for 2021 too. Otherwise, complete your membership form now and bring it with you for when you check in Saturday.
Camping on Friday Night: Unlike the first two events at Canaan, you do not need to reserve a camping spot for this Friday night at NHMS. Arrival time is 7-9pm. No entry or parking after. The track will charge you a $25 fee (maybe $35) and may issue you a permit when you check in at the front gate. After parking, proceed immediately to the gated grid area to sign in your driver and helpers and get your pit passes. If you forget to do this before 9pm Friday night, you and your three helpers will need to drag yourselves down to the front gate and wait in line to check in Saturday morning.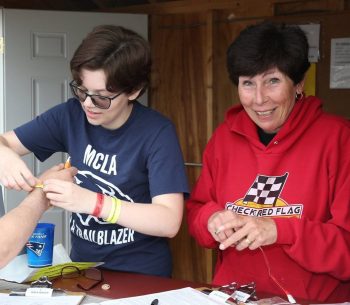 Trailer Drop Off on Friday Night: 7-9pm only. We encourage everyone to take advantage of trailer drop off on Friday night to get a good pit spot and get signing-in out of the way. Remember, your entire group needs to check in at the same time. (No, you may not purchase extra pit passes for people coming Saturday.) The best part of Friday night trailer drop off comes Saturday morning when you're waved by the long line at the front gate. You'll just need to stop your vehicle briefly at the booth near the main gate and hold up your wristbands until the NHMS worker in the window confirms seeing them on everyone in your vehicle.
Saturday Morning Entry: Check in will begin at the main gate at 6:30am. Please form two lines of vehicles. All helpers (up to three per driver) must be with their driver when they sign in. We will not hold, store, hide, email, airmail, etc. any pit passes.
NHMS Covid Waiver: Please make sure every member of your group has their NHMS Covid Waiver (the one they printed and completed at home this week) to turn in at the NHMS window when you sign in at the front gate.
Masks: Although the masking mandates have been eased, we will still require masks inside the grid gate at all times. The grid and scale areas are very congested. We are all on top of each other so we feel masking is the best way to keep our friends and staff safe. Outside of the grid gate you are free to do as you choose, as is everyone else, so be respectful.
Parking: Honestly, parking for the pits at Loudon wasn't great when we only had 65 entries. Please, only use as much space as you need for your pit. NHKA staff will guide you to the best spot available for your vehicle and trailer. Extra conversation, begging, bribery, etc. will only hold up everyone behind you. (Please note that the parking area inside the grid gate is reserved for NHKA staff and officials only.)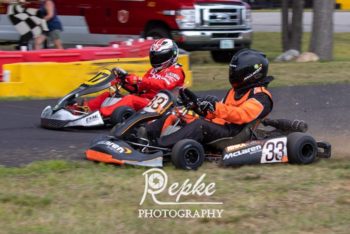 Race Day Schedule
8:15am Drivers Meeting
8:30am Practice by Group
1. Kid Karts: Last Kid Kart session during lunch.
2. 206 Senior
3. 206 Cadet / TaG Mini
4. TaG Senior
5. World Formula Light
6. 206 Masters / 206 Junior
7. All Shifters KZ / Stock Moto / DD2
8. TaG Masters / TaG Junior
9. World Formula Heavy
If time allows, we will attempt two rounds of practice plus a separate qualifying session. After lunch, each group will have one Pre-Final Race and one Final Race.
There are several drivers running multiple classes. It is impossible to schedule the day without at least one of them ending up in back-to-back races. If you are one of those busy drivers, be sure to let the grid steward know. He will cut you a little slack (a little) to help you not get left behind. If you're not one of the very few in the back-to-back club, get to the grid on time! That means as soon as the race before yours enters the track. The show must go on!
We'll see you all at the track!