It's hard to believe we're only days away from the last event of the 2018 NHKA Racing Series – Saturday, October 6th at Canaan Motor Club. (Click here to make sure you get your pre-registration in before midnight October 3rd!) Wow, what a season it has been. By the time we hand out the RJT Karting sponsored trophies at the end of the day, we'll know who the champions are, and they'll know they pulled it off in a season like no other.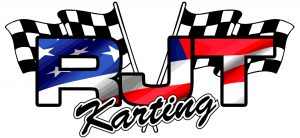 This year it felt like every knob got turned up a few notches. Attendance was amazing, with 100+ entry events becoming NHKA's new normal. And rather than diluting the level of competition, it pushed it through the roof. Sure, the usual standouts continued to dominate the top step of the podium, but instead of there being just three or four drivers with a legitimate shot at the win, now in some classes there might be twice that many. Further evidence of how high NHKA racers have elevated their game, is how long it's been since we've heard the word "hooligans." Serious on-track incidents and one-kart wrecks are rarer. The same can be said for breakdowns. You guys are getting very, very good at this. That means in addition to being the most generous, friendly and sportsman-like club in karting, this season you've also grown into some of the best drivers and mechanics. Even if you're not called out below, based on what we're seeing on track, you've made big gains this season you should be proud of.
Races to Watch
While there are only a couple classes where the championship isn't all but locked, there are several classes where the second and third steps of the points podium could be a race all the way to the last checkered flag of the season. (Note: Points tallies include anticipated drop race.)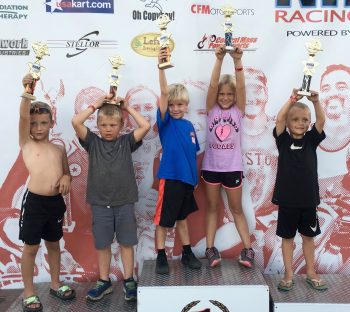 Kid Karts
So what there's no championship to battle over, or that nobody is keeping (official) track of finishing positions? Race after race this growing pack of little speed demons goes out there and gives it their all. Then there's their families who make sacrifices, meet challenges and get greasier than any soccer mom ever has in her worst nightmare. Does this make the Kid Karts a race to watch? Damn right it does! So if you can tear yourself away a few minutes, let's give them a cheering-on they'll always remember!
Briggs 206 Cadet
With five wins, only one finish off the podium, and a 65-point lead going into Canaan, Caleb Jarvis-Comi has set sail to his second Cadet championship in a row. Another sure thing is that Myles Danoff and Zachary Fasset will also be on the championship podium. But because after nine races they are tied in points, it be fun to watch them sort out who stands on which step.
Briggs 206 Junior
Ever hear the expression "winning isn't everything?" With a 27-point lead, Wyatt Jarvis-Comi could come away from Canaan with the championship, but what he probably really wants is his first win of the season. Nipping at his heels is Christian Flagg, and only 18 points behind him is Alessandro Boas, who has the momentum of a win and a 2nd coming into the finale.
Briggs 206 Senior and Masters
Every greyhound race is won by a rabbit. Briggs 206 Senior champ Mike Oliver and Masters champ Alan Morrison played the part well in 2018, helping to drive growth in the Briggs 206 adult classes by giving everyone someone fast to chase. Pssst… keep an eye on Briggs 206 Senior drivers Jake Emory and Robert Bone. There's only 30 points between them for 2nd place.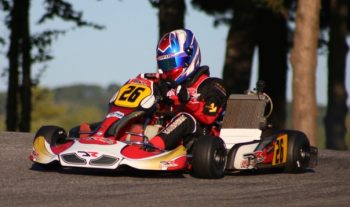 TaG Junior
Valentin Andrieux attended eight races and won all but one, in which he finished 2nd to DRT teammate Evan Slater. Not too shabby for his second season racing, oui?
TaG Senior
Veteran TaG racer Pat Dennehy nailed down the championship with a solid four wins and three 2nd-place finishes. His rival, and reigning TaG Sr. and Masters champion, Ricardo Nunes, finds himself second in the championship race with a scant five-points separating him from Huge North, who has really come into his own this season. If you like cheering for the underdog, this is the race to watch.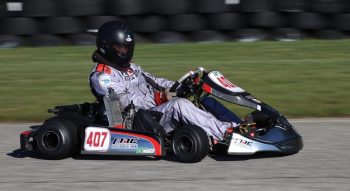 TaG Masters
Seven freakin' wins! That's how Ricardo Nunes has won his second championship in a row in one of our most competitive classes. Kevin Tibbetts kept him honest with four 2nd-place finishes. But Jim Hendrix and Brad Danoff are the race to watch. They go into Canaan in a dead heat for third in the points. No telling who'll come out on top Saturday, but I can tell you who'll be watching these cagey racers settle it.
World Formula Heavy
With six wins and a 50-point lock on the championship, if you think 2018 was a breeze for the 2017 NHKA and IKS Stock Moto Champion Keith Buffo, you haven't watched a World Formula Heavies race this year, and you really should. Each race has been more intense than the last, filled with contact, controversy and wheel-to-wheel racing. It's a bit like the Tonight Show of the NHKA with all the celebrity guests… last season's champion Geoff Lockett, former champ Tom Prioli, race director Mike Camarra, TaG Masters master Jim Slade, lightweight standouts Dave Nadeau and Rick Brown – all with nothing to lose but the race. It's been wild! Don't miss the last episode!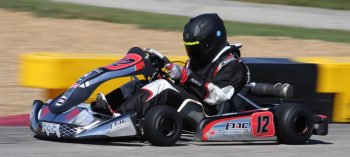 World Formula Light
How competitive is this class? More than 40 people raced it in 2018, including a former professional driver, a few national champions, several multi-time NHKA and IKS champions. Rick Brown only won one race this season, but he has a 40-point cushion, which should be plenty to win the championship. Dave Nadeau sits in second place with no wins – talk about Dammit. That's how competitive this class is. Then there's Michael "Quiet Hands" Antonov with his eleven year old shifter chassis and a firm hold on third. So, with nothing on the line Saturday, is it still a race to watch? Are you kidding?!!!!!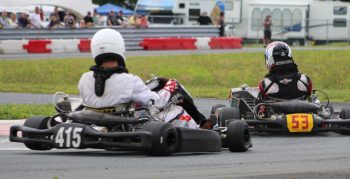 KZ Shifter
Here's what we know about the KZ Shifter class going into Saturday's race: 1) John Sullivan has a beatable 25-point lead. 2) John ALWAYS keeps it pinned. 3) Zach Morrison gets faster and better every race. 4) Zach's dad, Alan, won't be far behind, if he's not ahead.
Stock Moto Shifter
When Bryan Boutin made the jump from 80cc to 125cc Honda shifters, naturally there was a period of adjustment. But once he got through that first half lap, he went on to win six races and the 2018 NHKA Championship. If he had stumbled, he'd have found Mike Kavanaugh and Jake Seidel ready to pounce.