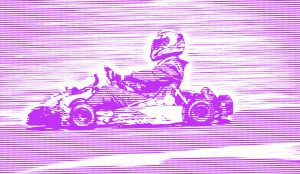 In only a few days the NHKA will be hosting its first AKRA National Road Racing Series event. If you're a regular of either series, this event will be much like any other (loads of fun and tight competition) with only a few differences in practicalities (meaning rules and procedures.)
Registration
If you haven't pre -registered yet, do it now by clicking here. Pre-reg is open until 5pm Wednesday August 8th. Fax and email info are on the form. You definitely want to get yours in ASAP to save $10 on every class/race you enter (including Friday Practice), and secure the best possible starting position in your races.
NHKA members do not need to purchase an AKRA membership.
Remember, even if you pre-enter you still need to stop by registration at the track to sign the waiver and get proof of registration to display on your kart.
Camping and pit passes will only be sold at the gate, cash or check only.
Arrival and Paddock
Early entry is available Thursday night 6-10pm. Please keep in mind that the gate is locked at 10pm every night, and overnight parking is not allowed on the street or on track property outside the gate.
Friday, Saturday and Sunday the gate will open at 7am.
Trackside camping is available for just $25 for the event. However, there are no hookups or showers. (The track intends to add these amenities in the near future.)
It is very important that all pit equipment and activities are kept off the pavement at all times. This is to keep the paddock roads clear for safety equipment, and to minimize damage to the asphalt.
Absolutely no disposal of tires or fuel cans at the track. Seriously, do not do it. Also, please pick up all the bits of trash (butts, wire tie scraps, etc.) in yours and your neighbor's pit area. Canaan Motor Club was built and priced specifically for grassroots racers. Let's keep it that way by not making them hire a cleanup crew by leaving the place cleaner than we found it.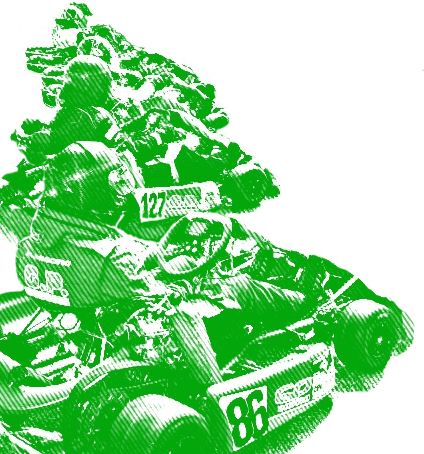 Event Schedule
There will be no qualifying sessions or prefinal/heat races, only feature races. The grids for the races will be set based on the order registrations are received.
FRIDAY
7am: Gates, registration & tech open
10am: Drivers meeting
11am-4:00pm: Group practice
4-5pm: Practice for Kid Karts, Cadet, TaG Mini and TaG Micro
10pm: Gate closes
SATURDAY
7am: Gates, registration & tech open
8:30am: Drivers meeting
9-11am: 2 rounds group practice
11am-Noon: Lunch & races for Kid Karts, Cadet, TaG Mini and TaG Micro
Noon: Racing begins
10pm: Gate closes
SUNDAY
7am: Gates, registration & tech open
8:30am: Drivers meeting
9-11am: 2 rounds group practice
11am-Noon: Lunch & races for Kid Karts, Cadet, TaG Mini and TaG Micro
Noon: Racing begins
All times are approximate and subject to change.
There will be sign board near the pre-grid where information will be posted, such as practice and race groups, schedule adjustments, results and special announcements. There will also be an FM local broadcast of announcements and classes being summoned to the pre-grid.
Kid Karts will race on the kart track. Cadets, Minis and Micros will use the sprint/half-track. All other class will race on the full road course WITHOUT the bus stop chicane.
If there is passing rain, every effort will be made to dry the track and continue the day's schedule with shortened races, if necessary. If there is sustained rain, competitors will be given the opportunity to switch over to wet setups, and we will continue the schedule on the sprint/half-track.
Rules & Scoring
Trophies: On track, matching AKRA and NHKA classes will be racing against each other as one class for the day's trophies. So, if an NHKA TaG Masters driver finishes 2nd to an AKRA TaG Masters driver, the NHKA driver will get the 2nd place trophy. Points will be a different…
Points: NHKA drivers will be scored separately from AKRA drivers for championship points. So, an NHKA driver who finished 2nd to an AKRA driver will get the first place NHKA championship points, and the next NHKA driver will get 2nd place NHKA points. Naturally AKRA drivers will receive AKRA points in the same manner.
The AKRA Road Racing Series does not have spec tire rules. However, the NHKA does, and those and all other rules will be in effect. So if you are racing for NHKA points you must be entered in your NHKA class and race on that class' spec tire and follow the NHKA rules just as you would at a normal club race. IT IS YOUR RESPONSIBILITY to read and know the rules. We will be measuring key components of your chassis, seat and body work. Remember that most of you use CIK body work and some of the rules are specific to those classes.
Back to trophies… the rained out presentation of the Race 6 trophies sponsored by Danoff Contracting will be held this weekend.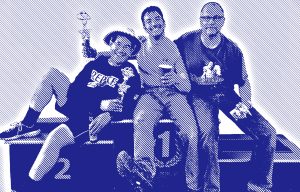 More Info
Canaan Motor Club does not sell fuel. Some of our vendors will have a limited supply of VP brand MS98 and C-12. If you are traveling to the race as an AKRA competitor whose class requires a spec fuel, and haven't already made arrangements with a vendor to bring enough of that fuel to the track specifically for you, we recommend bringing your own.
Breakfast and lunch items will be available at the track. Additionally, there are a number of casual restaurants within a mile of the track, as well as filling stations and well stocked grocery stores. There are many more dining and shopping options within a half-hour's drive, along with plenty of hotels. For more about the track and nearby amenities check out our Canaan Motor Club page by clicking here.