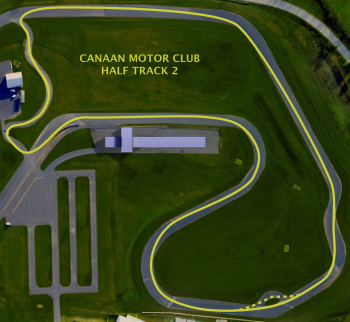 Race 9 is here, the last of the 2019 NHKA Racing Series season. It's this Saturday, October 19th at Canaan Motor Club. We will be racing the same track configuration as last time: Half Track 2, clockwise, with the chicane. Kid Karts will use Half Track 1. Big thanks to the Zamperini Family for sponsoring event trophies. Be sure to pre-register before midnight tonight, Wednesday October 16, 2019 so you can make the most of your race morning.
Please remember to bring donations for the CLR #10 Team food drive. Cruise LaBrie and family will be set up near the paddock entrance collecting canned and dry goods for local food pantries. The cold weather and holidays are coming, so please be as generous as you can. See the earlier post for suggestions, but if you somehow forget to load mac-n-cheese into the trailer, cash is always a welcome donation.



As usual, we have some reminders and updates to share with you…
USE THE FIRST GATE: Please enter the track property by the first gate closest to the main road. There will be signs.
PIT PASSES: You must sign in and purchase a pit pass BEFORE entering the paddock. Please DO NOT drive in and park and then walk back to the front booth to get your pit passes after. Get your pit passes first.
FRIDAY NIGHT ENTRY: The gate and pit pass sales will open at 4pm (or as close to that as we can) to give teams time to set up before the sun goes down. Registration will open at 7pm, then close at 9pm along with the front gate. There is no late entry or street parking allowed. If you're not positive you'll arrive before 9pm, delay your departure to arrive in the morning.
SATURDAY MORNING ENTRY: The gate will open at 6:30am. Pit pass sales will begin at 7am.
DRIVERS MEETING: 8:15am sharp… we have a lot of racing and work to fit in before the sun sets. All Drivers MUST ATTEND.
BARRIER STORAGE: After the races, we'll need a few extra people to help with moving the barriers into the barn for the winter. It usually takes about 45 minutes. Thank you!
PIT PASSES PART II: Everyone at every NHKA event must have a pit pass. That means if friends or relatives attend, even for just part of the day, they'll need pit passes. If your guests arrive after lunch, please make sure to find Mike or Nancy BEFORE your guests enter the paddock. Please keep in mind that we will be very busy conducting the races at that time and may not be able to step away. Thus, please expect an extended wait and understand that mid/late-day entry is not guaranteed.
DRAIN YOUR ENGINES: The first frost is coming any night now… if it hasn't already near you. So be sure to drain the water out of your engine. Don't forget to blow into your radiator fill a couple times to get the water out of the small passages in your engine.
BANQUET: Your NHKA Racing Series Awards Banquet/Annual Meeting/Party will be on Saturday, January 18, 2020 at the White Birch Function Hall in Hudson, NH. Stay tuned for more details in the coming weeks.