After a long, boring winter it is finally time to get back to the track and race. NHKA Racing Series Race 1 is this Saturday May 5th at Canaan Motor Club on Half Track 1… the same configuration as the pre-season practice day. And remember, we race rain or shine, so be prepared!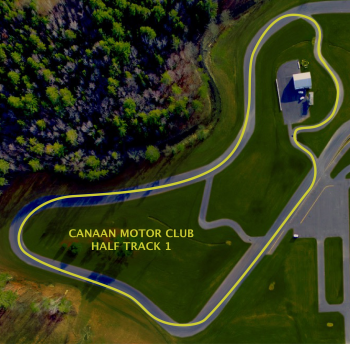 Friday Night Entry: The gates will be open 7-9pm for those with confirmed camping reservations and anyone who wishes to just drop off their trailer. As of Tuesday morning, we have a few camping spots available for $25.
Saturday Track Entry: We appreciate everyone's patience waiting to get into the track on the practice day. We're making changes to try to get everyone through the gate and pre-race tech faster. Firstly, the covid waiver/questionnaire will no longer be required for events at Canaan. Secondly, we've been allowed to have more people camp at the track Friday night. And if you drop off your trailer you'll be directed around the line of new arrivals Saturday morning. As for pre-race tech, Paul will be inspecting karts 7-9pm on Friday night.
Lunch: Between 11:30am and 12:30pm we will reopen the gate to allow attendees to go into the village to pick up lunch.
World Formula Engine Seals: At the practice day we noticed several World Formula engines that did not have a NHKA engine seal installed. Seals will absolutely be required in order to go onto the track to race or practice for the rest of the season. No exceptions. If you purchased your engine from an NHKA Authorized Dealer, they are required to install an engine seal. If your engine was purchased from an outside shop, or a used engine without a seal, it will need to be inspected and sealed by Archie's Kart Shop, they are the only shop authorized to do so. Archie is located in Henniker, NH. 603-289-1029
Kart Numbers: All karts must have a number on the front and sides in order to go onto the track race day. NHKA uses a non-repeat number system. New members and non-members must request numbers by email at nhkaracingseries@gmail.com
Helmet Specs: ALL helmets must have a current Snell approval. You will NOT be allowed to race without an approved helmet. See the NHKA Competitor Rules for the complete list of approved helmets.
Two Helpers: Another change from the practice day is that we are now permitted to increase attendance by allowing all racers to bring two helpers. However, just like the practice day and all last season, you and your helpers must check in at the gate together to get your pit passes, whether you check in Friday night or Saturday morning. No stragglers, holding pit passes or entry after the gate closes. And if your helper is a minor, you must have a notarized minor waiver completed.
As pandemic restrictions are eased, we will welcome more people through the gate. Probbly record breaking numbers of people. That's great! The more the merrier! This rapid growth will mean making adjustments, as we have to the race morning entry process. And we will continue to rethink how we do things. But the most important thing is that we all keep on doing what makes the NHKA so great: working together as a community to make sure everyone is safe, has what they need and is having a good time. So long as all of us continue to pursue that gold standard, when the day comes we hold our first 300-entry race it will be as awesome as this Saturday's season opener promises to be.
Stay tuned – we'll be releasing the race day schedule and other event updates later this week.