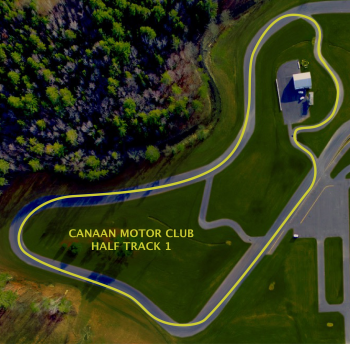 It is confirmed! On April 24 the NHKA Racing Series will be holding a full day of pre-season practice at Canaan Motor Club running clockwise on Half Track 1.
Of course this plan is subject to the melting and thawing process. However, we spoke with Dave, the track manager, and he feels it looks very promising. We'll continue to monitor the situation on the ground in Canaan, and when we get into that week we'll be watching the forecast. If Saturday the 24th looks rainy, we'll switch to Sunday the 25th. If Sunday doesn't look much better, welp, we'll see… Whatever the case, we'll let everyone know about changes as soon as we know.
Racers are always eager for more opportunities to practice, and it's something we've been working on. Holding a practice day before the season gets up to speed gives all of our new drivers the opportunity to get some valuable seat time as well as complete the mandatory safety course. For our veterans, it's a chance to break in engines, shake down new karts and polish away the winter rust.
We'll be announcing a registration start date and deadline very soon. So stay tuned!