After huge turnouts for Pre-season practice and first race at Canaan, Race 2 on the Hill Course at NHMS could very well draw the most entries the club has has ever had for a sprint race. We won't know for sure until after the registration deadline, midnight Tuesday, May 25th, but it is promising to be an exciting day you won't want to miss out on. Register now!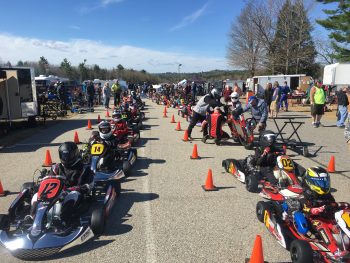 With so many racers expected, and each racer now allowed to bring three helpers, it's important that everyone knows where to go and what to do to keep the day moving to maximize track time. Here's some important info to help…
Friday Night Entry: The gates will be open 7-9pm for trailer drop off and camping. Nobody will be allowed to enter after 9pm. For Friday night only, checking in will be a two-stop process. First you'll need to stop in at the main gate to sign the NHMS waiver and pass in the NHMS covid waiver you printed and completed at home this week. Then you will drive toward the Hill Course. Before parking, you will stop near the gate to the grid area to sign the NHKA waivers and collect your pit passes (remember your whole group needs to check in together.) Then you will be directed towards the best available pit spot. Pre-race safety tech will be available until the gate closes at 9pm.
New Drivers: A safety course for new drivers will be held Friday night.
Saturday Morning Entry: The main gate will open at 6:30am. Form a double line with your vehicles. Make sure your up-to three helpers are with you to check in. We will not hold pit passes at the gate for late arrivals. And make sure all attendees have their completed NHMS covid waiver.
Drivers Meeting: The drivers meeting is mandatory and will begin at 8:15. Kid Karts should be ready to roll immediately after.
Revised Mask Policy: While NHMS no longer requires masks, we will continue to require them inside the gated grid area due to the large number of people. However, outside the grid gate and in your pit area you may do whatever is comfortable for you. And you will be respectful of other people's right to choose for themselves. We do ask that you help minimize the number of people on the hot grid and near the scales. We are working out an expanded viewing area for helpers and families.
As we move on into the summer we are hopeful that we will be able to return to our normal routines fully. We wish to thank you all for working with us to help keep everyone safe. We're almost there!