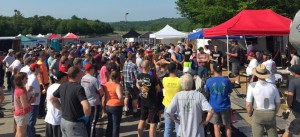 The last IKS weekend on the Hill Course at New Hampshire Motor Speedway was one of the club's biggest ever. So if you're looking for intense competition, join us this Saturday for one of the best races of the season.
Please join us in welcoming our newest trophy sponsor: Central Mass Powersports in Lunenburg. CMP, a New England Power Sports Company, sells and services just about any type of motorcycle, personal watercraft and snowmobile, along with gear for riders of all ages. If it has wheels and it's fun you'll find it at CMP, and now that includes karts. CMP is now the area's newest Top Kart dealer.

CMP also carries a full line of engine parts and a wide selection of trailers to get your kart to the track. Stop by the CMP trailer on August 8th to meet the Pescatore family and find out what CMP is all about. Visit www.CentralMassPowersports.com and be sure to sign up for the mailing list for the latest news on their rapidly developing kart shop.