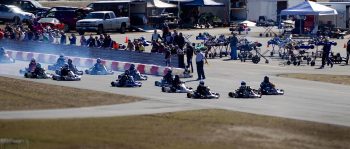 As big as Race 1 of the NHKA Racing Series was, we're expecting an even bigger crowd for Race 2 because it is also the first race of the Interstate Kart Series. So please read the following information to help you and the NHKA make Saturday a smooth, fun day at Canaan Motor Club.
Friday Night Entry: The gate will be open 6-10pm for those who wish to camp or drop off race trailers. Pit pass sales, registration and pre-race safety inspections will all be available.


Saturday Morning: The gate, pit pass sales, registration and pre-race safety inspections will all open at 7am. The mandatory drivers meeting will be at 8:30, followed at 9am by the first of two rounds of group practice.
Race Format: Following practice, classes will be reshuffled as needed into race groups, these will be posted near the grid and followed for the rest of the day. Each race group will have a five-minute qualifying session. All Jr. and Sr. classes will race on the full road course for 30 minutes. Micro, Mini and Cadet classes will race for 20 minutes on the sprint/half track. Kid Kart sessions will be eight laps on the kart track.
Membership Deadline: The deadline for 2018 NHKA Memberships is the end of the race day this Saturday. Racers accepted as members after this time will not be able to count the first two races in their points total for the season.
Non-Spec Rain Tire Marking: Remember that Saturday is your last chance to have your previously purchased non-spec rain tires (not MG or LeCont) marked so they are grandfathered for use.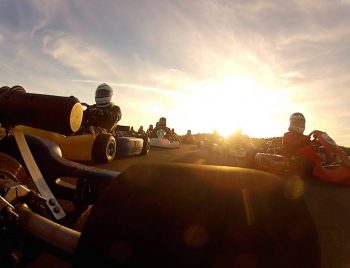 Alcohol: Absolutely NO OPEN ALCOHOLIC beverages until all on-track activities have concluded for the day. NO EXCEPTIONS. Anyone caught with open containers or drinking any alcoholic beverages will be removed from the property.
Food: Unfortunately, there will be no food available on-site for lunch, so please plan accordingly. On the other hand, there are a number very good options less than a mile away in town.
Pre-Registration: The early adopter award goes to Valentin Andrieux for being the first racer to take advantage of our new pre-registration. It is a work in progress, but a simple way to give yourself more time to get ready race morning while helping the club to get karts out on track as early as possible. Pre-registration will be available for the rest of the season. The forms, posted under the Membership/Forms tab of NHKA.net, need to be completed for each driver for each race, mailed in with either a check or credit card info, and received by the Wednesday before each race. Entries received after Wednesday will not be pre-registered, and those racers will need to register at the track. Even if you pre-register, you will still need to check in with Tina at registration to sign the waiver and collect your proof of entry to display on your kart.
Thank you to CFMotorsports for sponsoring the trophies this weekend. CF is the original NHKA Authorized Dealer and has been at every race for more than ten years. (This might be because it's owned by NHKA co-owner and Race Director Mike Camarra.) But even long before he and his dad bought the club, the big white CFMotorsports trailer was trackside with parts and support. CFM is dealer of GP Racing and Margay karts, they are also a Certified Rotax Parts & Service Center. Visit CFMotorsports.com to learn more.