NHKA Race 1 was just an amazingly fun day! We had nearly 100 entries, including 14 new racers across several classes. That makes it the biggest opening day in the club's history. And we're expecting even more on May 26th at NHKA Race 2/IKS Race 1 at Canaan Motor Club because you'd have to be positively insane to skip the big track given the racing we saw on it last season.
We're feeling pretty confident that 100+ entries will be our new normal given the number of new drivers and eight days on the Canaan road course. Plus, there's the addition of the August AKRA Road Racing National to our schedule. This puts the NHKA firmly in the ranks of the country's biggest clubs and regional series.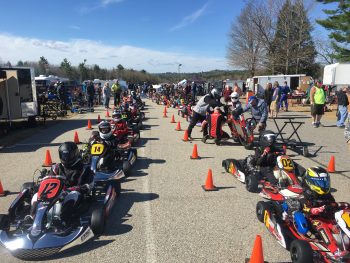 There's something very cool happening at the NHKA, and it has everything to do with you racers and your families. Part of it is how clean you race. Yes, last Saturday mistakes were made, some hooliganism was seen and minor accidents did happen. However, Race Director Mike saw no need to issue so much as a single rolled black flag. Given the intensity of the competition, that's amazing. But what's more extraordinary is the fun, friendly atmosphere of sportsmanship and comradery. So thank you NHKA racers and shops for your support, patience and general awesomeness!
Speaking of our growing ranks, George Vorrilas of NHKA Authorized Dealer Apex Kartsports deserves a special mention for his contribution to the bumper crop of new racers. He was a busy beaver this off season putting together all those shiny Mac Minarellis, recirculating used gear from retired racers and then on race day buzzing around helping anyone who needed it and, oh yeah, sponsoring the trophies. Just the other day Papa G told me, "Alex and I have been blessed with being able to travel around the world doing what we love. I'm happy to pay it forward by helping other families enjoy these great learning and bonding experiences."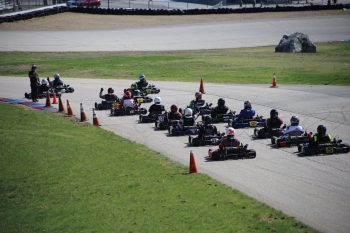 HUGE thanks to our crew for pulling double duty setting up the track. Overnight winds undid much of Friday's work. But thanks to our team, with assistance from the NHMS crew, we made quick work of getting it all back together. That was just one of the unexpected challenges dealt with last Saturday, and every race day. So, when you see Nancy and Paul Bowin, Greg Clear, Rich Hemingway, Mike Oliver, Ian Krueger, Tammy and Tim Ferraro, Sara Comi, Keith Buffo, Dave Nadeau and photo wizard Ken Repke please thank them for all the time they give to the club.
NHKA Race 2, as well as the first IKS race, are less than two weeks on May 26th at Canaan. Stay tuned for details as we get closer.