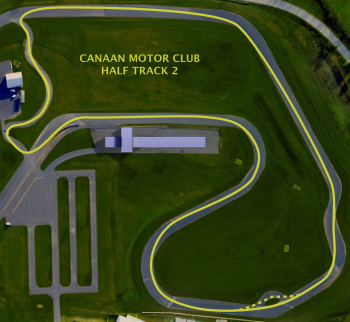 Thank you to all who have entered our first race of 2023 at Canaan Motor Club. The registration deadline for Race 1 is Sunday May 7 at Midnight. Remember, we will not accept any registrations at the track. So if you intend to go but have yet to register do it right now! We're looking forward to seeing ALL of you!
We will be racing counter clockwise on Half Track 2… meaning the end of the track with the chicane to the right of the paddock area. We will go out onto the track along the guard rail. We will use the bus stop chicane and turn into the infield track just before the infield garage then turn left back onto the main track. The Karting Safety Course will run counter clockwise on the far left end of the track.
As always we will release a Friday night and Saturday morning schedule on Thursday before the event. So stay tuned!