We are very excited about our return to Canaan Motor Club this Saturday, August 24th!!!! The property looks great and they are looking forward in hosting us. Attendance has been off the charts, and we're expecting another great crowd. So make sure you get your pre-entry in before midnight Wednesday the 21st. Big thanks to the Duchak Boys – Brian, Kevin and Wes – for sponsoring the trophies.
The main gate has moved. Please use the first entrance to the track after you turn off the main road. There will be a sign and someone directing traffic. If you miss the new entrance you will need to drive up Orange Road to Cardigan Mountain Road (at the intersection of Tuttle Hill Road) to turn around. In other words, DO NOT TURN AROUND IN THE NEIGHBORS' DRIVEWAYS! And as always, no parking on Orange Road. Please spread the word.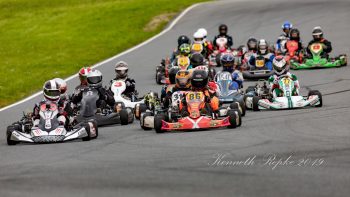 The gate will be locked at 9pm Friday. No exceptions. Friday night entry begins at 6pm. The gate (remember, the first one!) will open at 5:30pm. Please pull up to the pit pass booth to wait. The gate will be locked at 9pm. DO NOT let yourself in after hours. The gate will reopen at 6:30am Saturday, a half hour before pit passes go on sale. DO NOT arrive early/overnight and park on the street out front (Orange Road.) This will disrupt traffic on the main road, make residents mad at the track, the track mad at us, and us something much worse than mad at you.
ALL DRIVERS must sign the driver release at registration. Yes, even if you are pre entered for the event or the season – there'll be a special express line just for you.
DRIVERS MEETING will be at 8:15am. Everyone must attend. If you are late you will be required to review the meeting with your race director (which will likely be as fun as it sounds.)