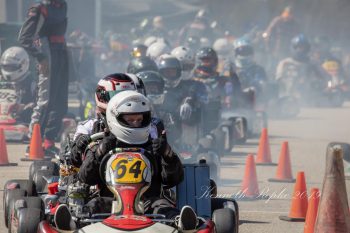 Thank you to everyone who participated in our first two events – both of which drew more than 100 entries! It's support like this that makes the NHKA one of the largest club series in the country. This also makes the racing super competitive and fun. Let's keep this going in Race 3 this Saturday, June 22nd, at New Hampshire Motor Speedway, with trophies sponsored by OnPoint Karting. Pre-registration ends Wednesday June 19th at midnight. If you miss it, not to worry, you can always enter at the track.
Please be aware that the speedway will be hosting the Short Track Showdown on the NASCAR oval for stock cars and modifieds. This will have no effect on our racing, we'll be on the Hill Course as usual. The parking and pit areas will also be the same. Aside from more traffic Saturday morning, the only difference should be all the race fans and crew members. This is a good thing! We're hoping more than a few of them will stop by to see what we have going on. Please make any curious visitors feel welcomed and don't let them leave without bookmarking "NHKA.net" on their phones.
Here's the latest info for attending Saturday's race:
Friday Night Entry The gates, pit pass sales and registration will be open 6-9pm. The main gate will be open later, but the gate to the Hill Course paddock will close at 9pm.
Saturday Morning Entry The gates, pit pass sales and registration will open at 7am.
Driver Sign-In All drivers must go to registration to sign the driver insurance waiver. NO EXCEPTIONS. This includes preregistered drivers, who will have a separate line.
Pre-Race Safety Inspection All karts and helmets must pass a safety inspection and have both the safety and registration wristbands affixed to the top of the steering wheel.
Pit Passes Everyone attending the NHKA race must be wearing a pit pass purchased at the front gate – even if you are just stopping by or helping out.
Used Tires and Fuel Cans You must take home your used tires and fuel cans. Anyone caught leaving them behind will receive an automatic 1-week suspension. At least.
Race Day Schedule The schedule for on-track activities we used at Canaan worked well, so we'll continue along those lines with some small adjustments.
Members Only Warm Up Immediately after the drivers meeting, NHKA members will have a 5-minute session to blow off the cobwebs.
We realize we sound like a broken record with these reminders, but they are extremely important and continue to crop up. We do our best to keep things light while balancing the needs of the racers, staff and the properties. And we certainly appreciate everything you all do to make that possible!
As a final note on the Short Track Shootout, it's been said that the drinking of beer is common at NASCAR events. We wouldn't know. But we can say for sure that there will be absolutely no alcohol consumed by any NHKA participant – including crew or friends – before the conclusion of all NHKA on-track activities for the day. We have a zero tolerance policy on this matter. The driver will be held responsible and suspended indefinitely. That said, once the racing is done, it'd be our pleasure to join you in toasting the day, no matter how it went on the track.