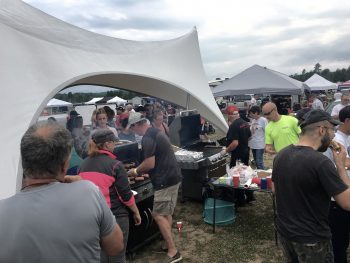 Don't miss your last chance to register for KartMania6!!! You only have until July 19 at 6pm – That's this Tuesday. So register now at www.BikeReg.com/NHKA Please remember that due to the high-speed nature of racing the big track, this event is for experienced karters only.
Bonus Points for Qualifying!
Saturday qualifying will be worth 1/2 points per position. So the 1st place qualifier will earn 50 points, 2nd place 45 points, and so on. That's on top of Sunday's race counting as Race 5's points. If you're familiar with how tight our championship battles are at the end of the season, you know how critical it is to qualify and qualify well with KartMania's unique Saturday pole day format. Remember: a driver must be present on the grid to be considered for qualifying points. No attempt to qualify on Saturday will result in a last place start on Sunday.
Please Pass Along the Yummy Side Dishes!
Things are coming together for our cookout on Saturday night. NHKA will supply hamburgers and hot dogs (we are still looking for some help with the cooking.) And of course we always have some grilling experts helping with their own recipes and cooking. However, we could still could use more sharable side dishes (just let us know what you'll be bringing.)
Raffle Fun at the Cookout!
We will holding a 50/50 raffle for a very good cause. PLUS: Pro Dry, a sponsor of Jake Siedel and John Sullivan, will be raffling off a Dehumidifier to benefit the cause.
Stay tuned for a full weekend schedule in the coming days.