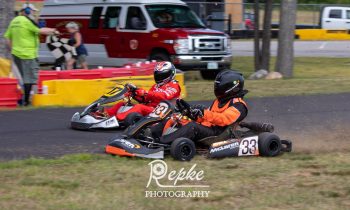 Only two weeks after 122 entries marked the NHKA's return to Canaan, we're right back at it this Saturday, September 7th, with Race 7 at New Hampshire Motor Speedway.
One look at the updated points confirms what is obvious on track – the competition continues to get tighter and run deeper into the field than ever before. Some classes have four or five drivers duking it out for the win, plus 20 more fighting for position all the way through the field. As we enter the last part of the season, the championship battles in most classes are also tightening up. With nothing decided, every position gained on track could be the one that gets the big trophy at the banquet.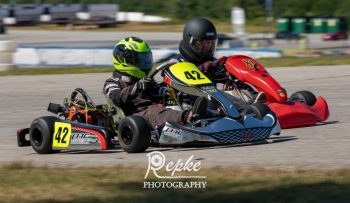 If all one knows are the trash talk and cheap shots of ball and stick sports, they might think that all this intense competition on the track has ramped up tensions in the pits. They'd be mistaken. NHKA events continue to be defined by the high level of comradery and helpfulness between drivers, teams and shops. Everyone helps everyone, especially direct competitors. That's because we're true racers who want to beat our rivals on the track. And because we're true friends, which is what makes this club awesome and our events so much fun.
Now for a few reminders…
PRE-ENTRY DEADLINE is today (September 4) at midnight. Yes, you can always enter at the track. But wouldn't your race morning be better spent checking your kart one more time?
PIT PASSES ARE CASH ONLY Credit cards are not accepted at the gate for pit pass sales. Please bring cash.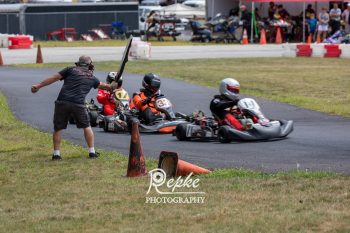 EVERYBODY NEEDS A PIT PASS Anyone who enters the gate onto track property are required to have a pit pass. That includes friends, family and mechanics (as well as drivers) whether they intend to be on the grid or not.
ALL DRIVERS MUST SIGN THE DRIVER WAIVER Whether you're pre-entered for the event or the season, all drivers MUST sign the driver waiver at registration.
PRE-RACE SAFETY INSPECTION IS REQUIRED All karts must be brought to Paul Bowen's pit near the grid for a safety inspection before being allowed to enter the track. Every race. No Exceptions. To brush up on what Paul will be checking, click here. He will continue to be paying special attention to how lead weights are mounted. If he already told you to remount your weights during a previous inspection, you'll need to have that done for him to pass you Saturday morning.
FRIDAY NIGHT ENTRY The main gate at NHMS opens at 6pm. Pit pass sales, registration and safety tech will be 7pm – 9pm. Anyone who arrives after 9pm must go to the front gate Saturday morning to purchase their pit pass.
SATURDAY SCHEDULE The main gate, registration and safety tech open at 7am. Drivers meeting at 8:15am. Members only warm up at 8:30am.