Once again, the NHKA Racing Series has reached the last lap of another great season. The last two laps, actually, with the Races 7 and 8 Championship Weekend on the Hill Course at New Hampshire Motor Speedway this weekend, September 10-11.
In 2022 the club pivoted from explosive growth and 200-entry events, to a model focused on financial sustainability, fun and preservation of our sanity. While we can only claim success on the first two goals, we are deeply appreciative of the continued support of the amazing NHKA family. Thank you all so much for making this new vision of success a success!
One thing that hasn't change in 2022 is the number of championship podiums that won't be fully decided until the last lap of the last race. Looking at the points (thank you once again Jim Slade!), and figuring in presumed drops, here are the tight points races to watch play out at the Championship Weekend.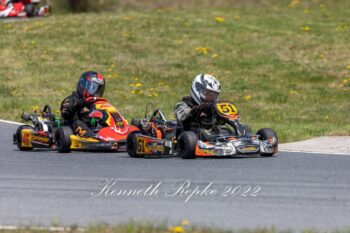 Briggs 206 Cadet
If you want to know the secret of winning a championship, just ask Wesley Clark. His approach is simple: Win every time you race. Jake Maloney's consistency has earned him a lock on 2nd-place honors. The race to watch in Cadet is for the third step of the championship podium. Cameron Bacon and Jackson Blanchard are only separated by a scant three points!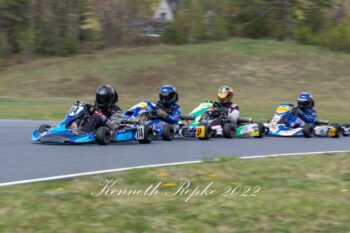 Briggs 206 Junior
Last season, Caleb Jarvis-Comi won the last race but still lost the championship… by a mega-frustrating 2.5 points! This season he won all but one race and has a commanding lead going into the last two races. With 2nd-place finishes in most races, Tucker Gauvin is a solid bet for 2nd place in the championship. However, the super-consistent Braden Kearney is only 23 points back. And don't count out Will Tyler who has positioned himself to potentially play the spoiler.




Briggs 206 Senior
This year 206 Senior features a new crop of championship front runners. Christian Flagg leads the way by finishing on the podium in all but one race, including three wins. Just 15 points back sits Cruise LaBrie, who won twice and podiumed every race. Meanwhile, Shaun Dobbins, Wyatt Jarvis-Comi and Brett Repke will be duking it out for the third step of the championship podium.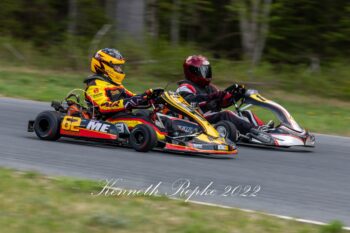 Briggs 206 Masters
Hard-driving Marcello Decampos is poised to take his second 206 Masters title in a row. Jim Paulette, whose impressively improved sophomore effort has him comfortably in 2nd place. The race to watch here is for 3rd-place honors between Andrew Plourde and gentleman racer Jim Janelle, who are a mere 20 points apart.






TaG Junior
Caleb Jarvis-Comi had a rough first race, but podiumed Race 2 and has done nothing but win since. This consistency has him firmly in control of the championship. It won't be so easy for Brian Wilkinson, who has the momentum of two 2nd-place finishes, but also has a hard-charging Brayden Hatch nipping at his heels only 10 points back.
TaG Senior
Last season's TaG Senior runner up, Mark Donato, is well on his way to a trophy upgrade thanks to a 50-point lead. With two races worth of points at stake, the rest of the championship podium is very much up for grabs. Figuring in the drop (key in this class), Alex Gomes has a negligible 7.5-point lead over SIMS teammate and fellow podcaster Christian Abbate. And they'll do well to stay ahead of Huge North, who's only 12.5 points behind. Oh boy, oh boy! This is gonna be very fun, but it's still not the race you absolutely must watch…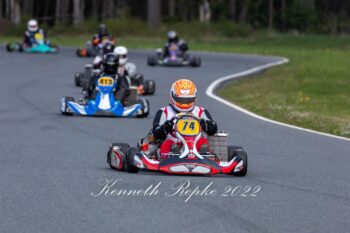 TaG Masters
They say, Ricardo Nunes lives in a house made entirely of trophies. So it should come as no surprise to see that he's in the hunt for his sixth TaG Masters championship in a row. SIXTH! What's unusual this season is that he isn't in the points lead. That honor belongs to last season's runner up Tobe Armendariz, who hasn't finished outside of the top two all year. Nor is Ricardo in 2nd, hard-charging Rich Blanchard is, and only 8 points out of first. Where's Ricardo? 3rd place. No, he hasn't lost his mojo, but he did have to miss two events – he won all the rest. Bottom line: Only 20 points separates three of the club's most experienced racers going into the Championship Weekend, making TaG Masters the race you absolutely must watch!
World Formula Light
Ryan Archambault has only managed two wins so far this season, but they've been enough to give him a comfortable 32.5-point lead. Last year's Briggs 206 Junior champ, Will Dziuba, has also scored two wins and a similar lead over his next closest competitor. 3rd place, Kyle Callahan, has one win but an only 7.5 point advantage over Christian Abbate, putting the last step on the podium completely up for grabs.
World Formula Heavy
With a 78-point lead thanks to 4 wins, Brett Repke's championship is pretty much a wrap. However, with a win a piece and only 17 points separating them, Scott Kearney and Tom Rosenfield still have a bit of work to do to sort out the rest of the World Formula Heavy championship podium.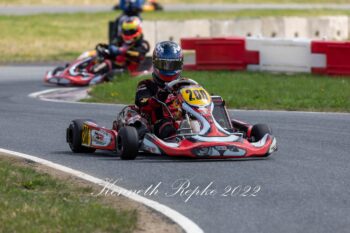 KZ Shifter
It would appear that Mark Donato in KZ has the same simple approach to winning championships as Wesley Clark in Cadet: Win every time you race. Which is particularly impressive given that he managed to do so against the likes of long-time shifter ace Tim Armstrong, who sits comfortably in 2nd place. Finally, a well-deserved shout-out to Jake Seidel for snagging 3nd place after coming up a handful of points shy last season.