We're wrapping up our abbreviated 2020 season at New Hampshire Motor Speedway this Saturday with another 120+ driver event. It's impossible to fully express our gratitude for all the support, patience and cooperation our family of racers has shown us. Thank you all!
Now onto reminders about things a bunch of you knuckleheads will screw up and we really wish you wouldn't. (You're allowed to call family knuckleheads, right?)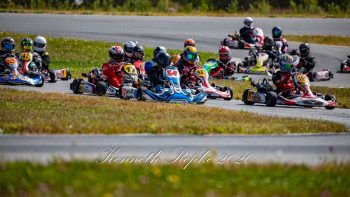 You all should have sent in a NHKA Covid waiver with your entry, just like you have all season.
For this race there's a second Covid waiver. This one is for the speedway and was sent as an email attachment and can be downloaded by clicking here. Every person entering the property needs to sign one. Please print and sign it now, then bring it with you to check in at the gate and turn it in at the track's window… this will help get everyone in without delay.
Friday Night: Trailer drop off 6–9pm. No entry after 9pm. All non-campers must be out by 9pm. NHMS charges $25 for camping regardless of if you're in an RV, tent trailer or wigwam. Social distancing rules will be in effect all night and for the entire event.
Saturday Morning: The gate will open at 6:30am. Please form a double line as you pull up to the gate to avoid traffic backing up onto Rte. 106. Please stay in your vehicle. NHKA staff will assist you with sign-in procedures.
NHKA staff will direct you to the best available parking spot for your vehicle. Larger teams will be directed to spots with ample room for all their racers. Please cooperate as there will be a lot of vehicles to get parked. Note: We are unable to reserve spots for anyone.
Race tires will be available for all classes. We feel we have enough to last the day, however when our inventory runs out that'll be it. If you typically buy from a dealer check with them about their supply.
We'll see you at the track!