This will be the final update for Race 1 of the 2023 season which means it's time to GO FAST! The weather will be awesome and we are looking forward to a great start to a successful season for everyone.
As always there are lots of things to go over so please read carefully.
This weekend we are a little short staffed. We will have a new gatekeeper as well as an experienced volunteer friend at the front gate. Please be patient. We will work as quickly as we can and will appreciate you all working with us.
Also we could use 1 or 2 more helpers with strong backs to pull barriers from the barn Friday afternoon. Please see Mike if you can help.
Please remember that we are unable to have any contact through email after 6pm Thursday night. Facebook or text are better bets but replies are not always possible – we're very busy setting up!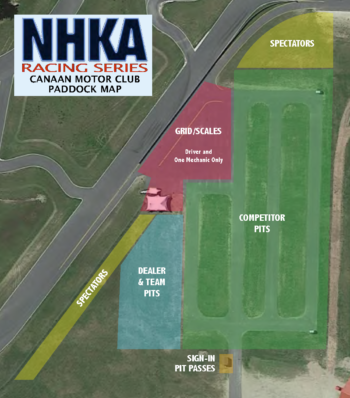 Friday Night
Entry 4-8pm for trailer drop off or camping. No entry or exit after. No exceptions.
Camping fee is $25. Only quiet generators. No fires.
Pit pass sales only for those present to sign waiver.
Pre-race kart safety tech will be available.
Saturday Morning
Gate will open at 6:30am. Use the first entrance to the property.
Do not arrive early, there is no place to wait outside the gate. You may NOT park on the street and interfere with the neighbors coming and going.
Any guests under 18 yrs must be accompanied by one of their parents unless other arrangements have been made in advance. This is non-negotiable. If a minor release form has been submitted and accepted you are good.
The drivers meeting will be at 8:15am sharp and lengthy. Please be on time. There will be a Briggs 206-only meeting immediately after. Drivers not at the drivers meeting will not race.
Race Day Format
Same format as last season starting at 8:45am:
Two morning practice sessions per practice group.
Lunch break.
One timed qualifying session per race group (which may differ from practice group.)
One 20-lap final race.
Practice / Race Order
1 206 Cadet
2 206 Senior
3 206 Junior
4 World Formula
5 All Shifters
6 TaG Masters
7 206 Masters
8 TaG Senior / TaG Junior
Please Remember…
Leave your pit area as clean as you found it. Take out what you bring in.
NO bikes, skates, scooters – motorized or otherwise – allowed on the property at anytime.
No alcohol or mind-bending substances allowed by anyone at any time on Saturday until the races are concluded for the day.
The track configuration is posted below. We call it Half Track 2. We will be running counterclockwise and using the chicane (the little dotted section.)
Kid Karts will run on the Karting Safety Course track to the left of the paddock.