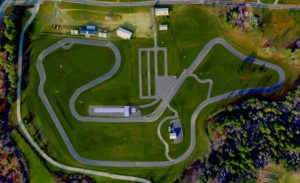 It has been a rapid fire start to the season. Already we're two races into both the Interstate Kart Series and the NHKA Racing Series driven by Checkered Flag Indoor Karting. Now we're shifting into high gear with three races in four weeks, starting with this Saturday's return to Canaan Motor Club for NHKA Race 3.
With so much racing, it's easy to just GO, GO, GO! However, the drivers you'll find on top next month will be the ones who reflect and build upon their successes and learn from when they came up short. We'll be running the exact same configuration as we did last time so you can pick up where you left off. This is how you become a better karter, and we become a better kart club.
A Few New Rules and Processes for Canaan
By any measure NHKA Race 1 at Canaan Motor Club was a huge success. That said there were lessons learned that will be applied at Race 3 this Saturday:
Do Not Work on Karts on Asphalt: Not on the grid, racing surface or even in the paddock. Stains on the pristine asphalt at Canaan stand out like a stock car at an F1 race. Even lube flung from a chain leaves a stain that stands out. Worse still is how hyper-reactive the asphalt is to fuel… it literally dissolves. You must be very careful not to get petroleum products on the asphalt. If an accident does happen, tell Mike or Lee IMMEDIATELY so they can hit it with a spill kit ASAP.
Pit on Grass Only: The only way for the ambulance to leave the property is through the paddock area. Seriously, you do not ever want to be responsible for delaying it. Greg "Parking Czar" Clear will direct you to the best available pit spot. By the way, the the grass is coming in nicely.
New Pregrid and Grid Process: You'll see cones and ropes indicating a new pregrid area off the asphalt for warming engines, applying forgotten chain lube, etc. Once the group ahead of you goes out on track, you'll proceed to a new grid area as normal. Not only will this help prevent stains on the asphalt, it will eliminate spectators crossing paths with karts entering and exiting the track.
Air Boxes and 14" Silencers for Shifters: Currently noise is not ian issue for the track, and the NHKA needs to do its part to keep it that way. So starting at KartMania! we will be requiring all shifter karts to have air boxes and exhaust silencers (for stock motos 14-inch, as measured at the barrel, not tip to tip.) This is exactly what's required at F1 Outdoors. Obviously, this is too short notice for this Saturday, but if you already own these items, or can get them, we ask that you do.
Clearer Scale Procedures: At Race 2, a lack of clarity about scale procedures sparked controversy in the TaG Senior class. Unfortunately, this incident put a driver, his competitors and our wonderful scale volunteer all in uncomfortable positions. Responsibility for the creation, communication and implementation of rules and procedures falls squarely on the club, thus so does responsibility for this incident. Crystal clear procedures and signage are in the works to ensure we're all on the same page so everyone feels treated fairly and controversy doesn't cast a shadow over the fun.
Big Thanks to Trophy Sponsor Apex Kartsports


Once again, George and Alex Vorrilas of Apex Kartsports have stepped up to sponsor the trophies for this Saturday's race. Apex, a long-time NHKA supporter, is a full-service kart shop offering a broad range of karts, engines, parts and gear. They are the exclusive U.S. importer for the ground-breaking ONE Kart. Company founder Sean Girdler and driver Michael Eastwell have been hopping back and forth from the U.K. to dole out a proper thrashing in the F-Series' highly competitive Formula TaG class. After two events they lead the points in their season-long quest for the coveted championship and march to set fire to the karting establishment at the SuperNats. If you haven't seen the ONE Kart up close, you should – it'll challenge your assumptions with its innovative design and winning ways. Visit ApexKart.com
Come Friday to Be Ready for a Great Saturday of Racing
Racers are welcome to arrive at the track Friday 3pm – 10pm. You can just drop your trailer to claim a great pit spot. Or you can camp overnight to get your pits set up, work on your kart, get your pre-race safety inspection out of the way and take care of your race registration if you're a member. Otherwise, gates will open at 7:00am Saturday with the members-only warm up at 8:15am.