An entire season of wrenching, racing and a whole lotta raining all comes down to this: Race 8, the NHKA Championship Finale, September 16 at Canaan Motor Club. One look at the latest point standings (big thanks, as always, to point meister Jim Slade!) and it is plain to see that while most of the championships are settled, the other two steps on the podium are very much up for grabs in most classes. Let's take a look at the races to watch.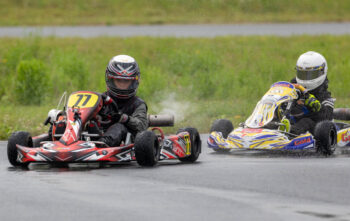 Briggs 206 Cadet
Speaking of podiums, third-generation racer Jackson Blanchard certainly knows his way around those. He was on the 206 Cadet podium for all but one race this season – including two visits to the top step. It's a season to be proud of by any measure. The same can be said of Jake Maloney's season given that after seven races he's only 12.5 points out of the lead. He finished third last season, and the championship is again within reach. But he'll need to get to the checkers ahead of Jackson in the last race to win the season. Spoiler alert: Wesley Clark. He only made it to four races this season but won all of them. If he attends, clearly he'll be a factor in the outcome of the championship.
We're not done with 206 Cadet yet. Evan Folsom sits in third a good ways back, but he has plenty of company: Samson and Levi Plourde as well as Ethan Jarvis-Comi are all within 30 points of the third step. That means 206 Cadet will actually be two races to watch.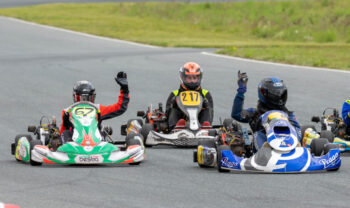 Briggs 206 Junior
With a win and five podiums, William Tyler has a solid grasp on the 206 Junior championship. However, the rest of the podium is completely up in the air. Austin O'Hara is only 15 points ahead of Shamus Dobbins and Caleb Jarvis-Comi who are tied a mere 7.5 points ahead of Brian Wilkinson. This promises to be fitting finale to a season of fantastic races.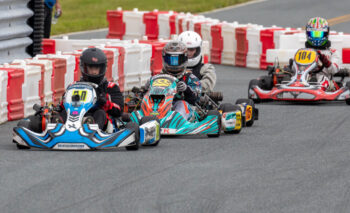 Briggs 206 Senior
Win five races, finish second in another and just like Cooper Rettich you too can cruise into the last event like it's a victory lap. That said second and third place honors are very much up for grabs. Shaun Dobbins has a 17 point edge over Gregory Santos who can always be counted on to keep things interesting. And don't count out last year's 206 Senior runner up Christian Flagg who is only 10.5 points off the podium.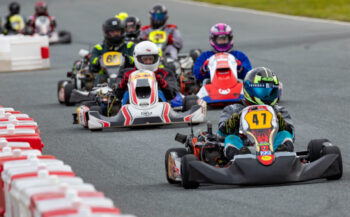 Briggs 206 Masters
Tom Rosenfeld is the runaway champion, which will happen when you win every race but one, leaving a second-place finish as your drop race. Alan Archembault ran up front all season, and was the only other racer in the class to score a win. Doug Hutchison also had a solid season which gives him a firm hold on the third-place trophy going into the last race.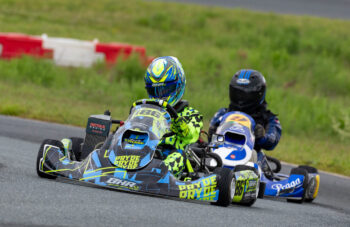 TaG Junior
With two wins and four second-place finishes, Brayden Hatch has a commanding 45-point lead. The always upfront Caleb Jarvis-Comi is solidly in second. Brian Wilkinson has shown the speed to hold on to third but would do well to remember Alex Bragga is lurking a scant 7.5 points behind him should he trip.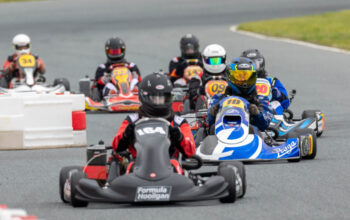 TaG Senior
Alex Gomes' five wins gives him a big 40-point lead over long-time rival, friend and fellow podcaster Christian Abbate, who scored two wins and typically finished one step down the podium from Alex. Which brings up an important factor: Alex missed the first race, which means he has no drop race to fall back on. Not to jinx him, but Alex needs to get through the day without trouble because Christian will surely be right there to snatch up the race win and the TaG Senior championship. And if that's not enough drama for you, Adam Campbell, Wyatt Jarvis-Comi, Nathan Barns and Nicholas Robinson are all within 30 points of finishing third for the season. This is definitely a race to watch!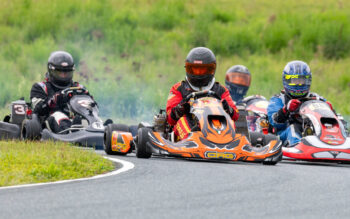 TaG Masters
When a very busy person who lives in Florida commutes all the way to the middle of New Hampshire to race and doesn't miss a single event, you know he's not messing around. Tom Prioli, with dad Ron turning the wrenches, won five races which gives him a comfortable lead going into the championship finale. That's not to say it was easy. Race after race was a slugfest between many of the NHKA's most experienced drivers. So shoutouts to Robert Bain in second, whose consistency got him two wins. And Alan Pope, whose speed made him a frequent front runner.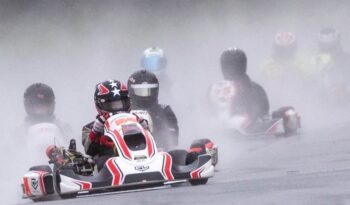 World Formula Light
Ryan Archambault kept the pedal down to earn four wins and a lock on the championship going into Race 8. Currently in second sits Nikolas Georgantis, who has put together his best season yet, but his work isn't done. Just 10 points back is William Dziuba, who is followed closely by Kyle Callahan and Christian Abbate. Best of all, every racer I've mentioned here could easily win.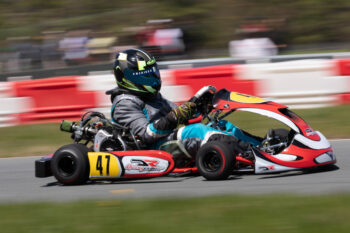 World Formula Heavy
For some racers, like Tom Rosenfeld, dominating one class isn't challenge enough. The truth is dominating two classes is more than twice as hard. Think about it, a race day has the same amount of time for wrenching, but now split between two karts. Plus, because it's not really practical to work on one kart while out on track with another; so you actually have less time to fine tune or chase problems. Which means you gotta go, go, go all day long. Plus you need to be faster than seasoned veterans like Jim Slade and Jeff Gutterson race after race. And maybe you're not the youngest racer in the paddock. When you think about it, dominating both 206 Masters and World Formula Heavy is a big accomplishment. One deserving of a tip of the hat next time you see Mr. 47.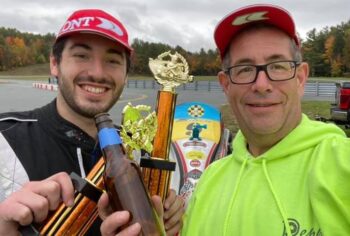 Huge Thanks to Photographer/Racer Ken Repke
Year after year Ken comes up with new ways to make interesting new images out of the same people doing the same thing in the same place. It's really quite remarkable, but easy to take for granted. The promotional value of the generous access he gives the club is best measured by the number of smiling faces you see at the track. Plus we're all so fortunate to have pictures of ourselves looking fast and cool – exactly as we imagine ourselves looking! We all appreciate Ken and his work, but the best way to show it is to visit www.kenrepke.zenfolio.com and purchase hi-res downloads or high-quality prints. He does a lot for the club and deserves our thanks.