Here we are, at the end of the season, and what an epic season it has been. Growth was so explosive the club forced to limit attendance even after the pandemic restrictions were eased. Speaking of Covid-19 and huge attendance, we are extremely proud and grateful to our team and membership for the thoughtfulness and cooperation that made such a busy season possible without a single known case transmitted at an event. Amazing! Out on the track we did more rain racing this season than in the past several seasons combined. Unfortunately, rain tire supply issues saddled us with a giant, stinking controversy nobody needed but we all survived. Without a doubt, the grand champion of the 2021 season is the mighty little Briggs 206 that made it possible for us to welcome so many new racers to the NHKA family. We hope you all had as much fun as we did watching you get better and better every race.
One thing that didn't change in 2021 was the intensity of competition. As usual, there are championships that won't be decided until the last lap of the last race. Looking at the points (thank you once again Jim Slade!), and figuring in presumed drops, here are the tight points races to watch at the season finale. If you haven't, register now!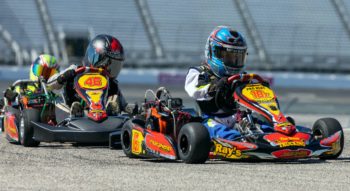 Briggs 206 Cadet
When you don't have a single race finish lower than 2nd, you get to cruise into the last event like it's a victory lap. Nice work Walker Fitch! On the other hand, Walker's competition has some work to do sorting out who will be joining him on the championship podium. Wesley Clark comes into Canaan in possession of the 2nd points position and the momentum of winning the previous race. Bryson Boutin is only 17.5 points behind Wesley with 6 podiums including a win in Race 4. And should any of these three stumble, William Roberts is right there with the consistency to grab a spot on the podium for himself.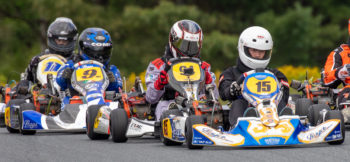 Briggs 206 Junior
William Dzuba has stood on the podium every race this season, but has been in absolute kill mode since Race 4 with four wins and a 2nd. Imagine being this dominant only to still have Caleb Jarvis-Comi breathing down your neck restraint a mere 17.5 points behind with a track record for delivering the goods under pressure at the last race. Now imagine you've earned seven podiums and a win but are relegated to third place… Do you think Christian Flagg will be looking to improve his lot at the last race? You bet he will.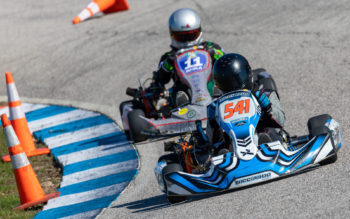 Briggs 206 Senior
Ryan Archambault's five wins puts him at the top of the standings with the drop. However, Dave Nadeau's consistency has him just 22 points back. Most certainly, not only is dammit Dave hungry for a championship, but also eager to double his win tally. A shout out to Greg Santos who was having a solid season with a win and a string of top fives. Unfortunately, disaster struck in Race 7, and again in Race 8, scuttling his championship hopes after being in contention all season. Racing be like that sometimes.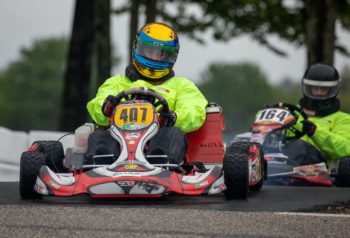 TaG Senior
Ricardo Nunes' five wins should be more than enough for him to retain the TaG Senior championship. What's going to be interesting to watch is whether TaG rookie Alex Gomes can recapture some of his early-season brilliance to hold off TaG veteran Mark Donato, who is only 7.5 points behind and has stood on each step of the podium in the last three races.
TaG Masters
There's no doubt that Ricardo Nunes will retain the TaG Masters championship. The question is whether he will do so by sweeping the entire feakin' season! The other question to be answered at Canaan is who will get 2nd with only ten points separating long-time TaG Masters rivals Tobe Armendariz and Robert Bain.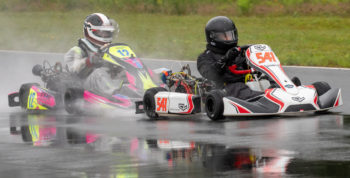 World Formula Light
It's no surprise that Hooligans Light are a race to watch at Canaan. Nor is it a surprise to find Rick Brown at the top of the standings worrying his socks off over a scant 15 point lead over Ryan Archambault. Both drivers have earned three wins and a pair of 2nds. However, momentum would appear to be on Ryan's side with wins in the last two races. That is were it not for the fact that Rick hasn't lost a race at Canaan in more than two years. This is gonna be good! Shout out to Kyle Callahan for locking up 3rd in the points in his first season with NHKA.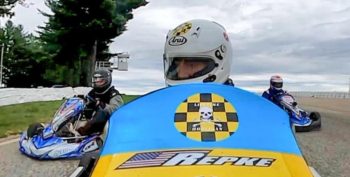 World Formula Heavy
Ken Poulin has a 22.5-point lead in his quest for a second championship in the Heavies. It's not a lot, but it might be enough if he can keep it clean and near the front. The real battle going into Race 9 will be for 2nd place honors with Brett Repke leading Geoff Lockett by only 10 points. Another race not to be missed!