Saturday's Pre-Season Practice Day is at NHMS. We have had a few people assume it was at the other place (not mentioning the name in this post!) Track direction will be clockwise, again, at NHMS!!!
Remember that ALL minors, drivers or not, will be required to have a minor release form per the speedway. If you are bringing anyone under 18 years of age the minor forms MUST be signed by the parents.
Friday Evening Enter via the track's main gate (not the south gate) 4-8pm for trailer drop off, camping and safety tech. You may pick up your registrations and 206 exhaust kits. Tires will also be available for pick up or purchase.
Remember: No bicycles, scooters, skate boards etc. are allowed in any NHKA areas.
Saturday Entry Main gate opens at 6:30am. Lee will be there to assist the line. Please park in a double line. Please stay in your vehicle until asked to go to the window. Main gate will close to NHKA participants at 12pm (noon). We will not sell any pit passes after that. All NHKA participants, including spectators, must have a NHKA wrist band. Spectators will have a designated area. Only drivers and mechanics are allowed inside the grid area gate.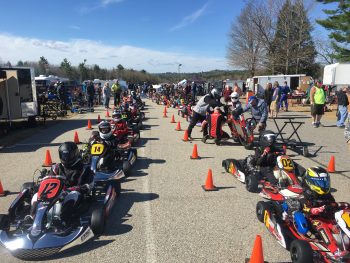 Event Schedule
8am Drivers meeting
8:30am 1st group on track
12pm Lunch break
5pm Track closes
We will group as many classes together as possible to optimize track time. We will separate classes and groups if the traffic on track gets too busy. Sessions will be 8 minutes.
Sample Groups
1 Kid Karts
2 206 Cadet/ TaG Mini
3 TaG Senior / Masters
4 All New Drivers
5 206 Senior / Masters
6 TaG Junior
7 World Formula Light / Heavy
8 206 Jr.
9 All Shifters
Fair Warning!!!!!! The weather still doesn't look perfect. We will attempt to run as much dry track practice as possible. We will run wet track practice also if there are any takers. We will do what is necessary and try our best to accommodate all drivers.