For sure, last week's release of rules changes for the 2016 season came closer to the first race than anyone wanted. But given how few and minor the differences are between the old WKA rules and our new AKRA/TAG USA rules, three weeks should be plenty of time. But that's not to say we haven't heard your feedback.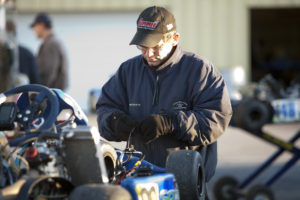 New Front Brakes Rule Delayed Until Race 2
The biggest rule change is the ban on front brakes for all classes but TaG Masters and Shifters. Compliance will require a bit of work and maybe a few basic parts. So we'll delay full implementation of the rule until NHKA Race 2/IKS Race 1 on May 14th in Loudon. This means anyone still needing to remove front brakes on April 30th in Canaan will be allowed to race, but required to have the brake bias set all the way to the rear with the adjustment dial over-tightened to disable on-track changes. This will be checked in pre-race tech and confirmed at the scales.
TaG Masters Exemption Weight is Now 210lbs
We have decided to halve the change to the TaG Masters weight exemption. So now, for a driver under 32 years old to be exempt they need to weigh 210lbs with suit but less helmet. (Not the 200lbs of previous years. Not the 220lbs announced last week. 210lbs – Got it?) The intention is to take away any physical advantage a young exempted driver might have against a field nearly twice his age. However, upon feedback and further discussion it was agreed that a 20lb increase was just too much.
Aftermarket Non-Performance Parts Still Allowed
Another topic that's come up is aftermarket parts. Nothing has changed. Generic versions of non-performance wear items such as driver gears, brake pads, batteries, starters, hardware, etc. are still allowed so long as they match OEM specs and materials. Conversely, all performance-related parts, including internal engine parts, clutches, drums, carbs, exhaust, ignition, etc. must be OEM, as always. Here's another thing that has not changed: OEM parts or OEM specs are required to minimize wear and breakage which maximizes safety, reliability and parity/competition and fun for everyone.
This is club racing. Making sure everyone has fun is the goal of everything we do, that includes the rules. We work hard to strike a balance… Not constantly treating competitors like suspected cheaters, while providing enough enforcement for honest racers to know that when they lose it's fair and square. We need rules that are strict and specific enough to keep everyone on the same page, but we also want the flexibility cut a well-intending racer some slack, like we all need at times.
Please keep the questions, concerns and suggestions coming, about the rules or anything else.
Mike Camarra
Race Director/Co-Owner
MikeC@nhka.net