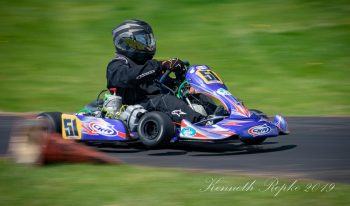 The Hill Course upgrade brought racers out in droves to New Hampshire Motor Speedway for NHKA Race 1. We had 115 entries take to the track to test our new configuration. The response has been positive so we've decided to keep it! LOL! Once again, thank you to all the racers who helped make this project possible, and to Apex Kartsports for sponsoring the trophies for this landmark day.
With growth come growing pains. More people means more to do, but still the same amount of day to get it done. Just as racers need to make adjustments to keep up with changing conditions, so do we:
• The gate will open 1/2 hour earlier at 6:30am.
• We will have a second pit pass line for those who pre-registered, annually registered or who are workers.
• Kid Kart practice and racing will be completed before lunch break.
• More classes will be grouped together for both practice and racing.
• Practice sessions will be slightly shorter, but there will be three sessions of equal length with the third being timed qualifying.
• Pre-finals and finals will be run in the afternoon as usual. However, to ensure everyone enjoys maximum track time, race lengths will now be determined by average lap time.
We hate shortened races as much as you. We appreciate everyone's patience last week and count on it in the future as we work to find ways to deliver the same great racing to more and more people. Speaking of which…
We feel very fortunate to have so many new drivers and families join the club this season. The NHKA community is known for being welcoming and super helpful. Let's keep that tradition going by introducing yourself when you come across a new face, then check in with them from time to time to see if they need help with registration, kart safety, pit rules or anything else.
Now onto the reminders:
• EVERYONE who enters the property must have a pit pass wristband. No exceptions. All wristbands must be purchased and signed for at the gate.
• EVERYONE who enters the racing surface must go to registration to sign the driver waiver – including those who are pre-entered.
• All karts that enter the track must complete a pre-race safety inspection.
• All karts must qualify and race on the same set of NHKA marked tires. Marked tires are available through Apex Kart Sports, DRT Racing and NHKA.
• Friday night entry is 6pm and 9pm. Only pre-authorized workers are allowed in earlier. The gate will be locked at 9pm and reopen at 6:30am Saturday. Please plan accordingly.
• CHARGE YOUR TRANSPONDER!!! Several fast drivers were forced to the back in their prefinals due to weak or dead transponders. These things need at least 18 hours to fully juice. That means tossing them onto a charger race morning ain't gonna cut it. If you're not confident about yours, we have a tester. If it fails, we have transponders to rent.

Race 2 will be at Canaan Motor Club utilizing the same configuration and direction we ran on the practice day. Your trophy sponsor is Danoff Contracting. If you have a dream, Brad can build it. Please join us in thanking Brad and Myles when you see them.