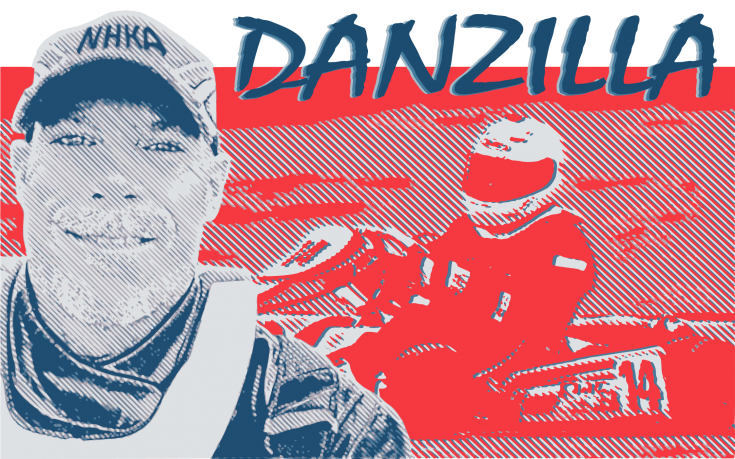 He was just a good guy. – Timothy Henry
He fought so hard. – Fabio Olivera
There was just no quit in the man. – Keith Buffo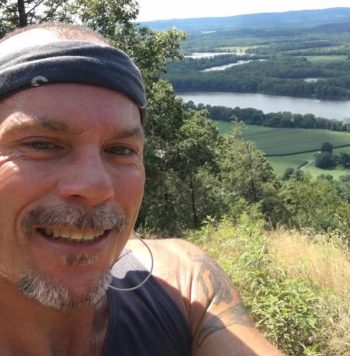 Expressions of respect like these are often and rightly said to honor the too many friends and family we have lost to cancer. Certainly no truer words can be spoken of Dan Dupre, who passed away the day after Christmas. Diagnosed a little over a year ago, he subjected himself to one brutal treatment regimen after another. Yet as hard as he fought cancer, he fought even harder to continue living his life on his terms – as a racer. He began his race weekends with a hike when possible. He was always among the first in the gate, despite having an hour longer haul than most of us. He raced in every NHKA race, and did so at the front of one of the largest and most competitive classes. He finished 4th in the Championship, a mere 10 points out of third. Only four months before his passing he snagged his first win with an astonishing rise-from-the-ashes performance. Here's a lightly edited version of the story as Dan told it…
One month ago at NHKA Race #8 (the second of a two-race weekend) I won in World Formula Lights. It took 28 NHKA and X1 points races from this season and last to accomplish this. You want competition, try this class out. The day before, in Race #7, I had a rough time and crashed out early. Considering I was wiped out of energy from a little health battle I got going, I almost packed it in for the weekend. I had many offers of help and karts to use. Eventually I bought a used one at the track and set it up for the next day's race. Thanks to all who helped or offered anything that they had. Much respect. That is the NHKA in a nutshell. I haven't posted anything about the win because when I got home I wasn't sure if I was going be back. My energy level was so low I had trouble talking. I've gotten better and after testing myself at a charity karting event last weekend I feel I can get the job done. I'll be back and looking for as many points as I can get in the last two races. I look forward to tomorrow.
When I saw this picture I was ecstatic! – Alex Gomes
For us to learn how to live in the moment. – Marcelo De Campos
Showed up with everything stuffed into an old pick up and made it happen. A true club racer. An inspiration. – Mike Camarra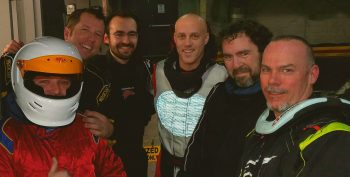 As fiercely competitive and driven as Danzilla was on the track, he was kind and reserved off the track. Whether you were young or old, direct competition or a new driver trying to figure things out, you could count on him to help anyway he could. Right at the end of the season, he put a new karter behind the wheel and infused him with the enthusiasm to be an instant regular. Dan loved this sport and club so much that not having somebody to hop into his seat and experience the joy of racing was an unspeakable impossibility.
He was the first guy to give me advice. – Tobey Bean
He was always good to my son Darren. – Pete Long
He was such a good soul. – Joey Kolbe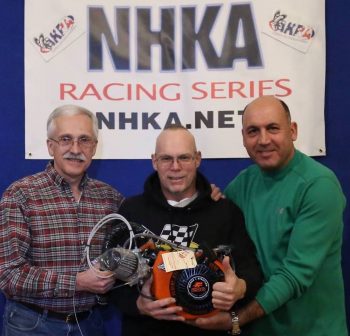 In some way, everyone has felt the cold touch of cancer in their lives. Sadly, just this past year, Dan was only one of several people in the NHKA community to endure this terrible disease, and the third it stole from us. Nonetheless it was Dan's fight that the NHKA family rallied around, inspiring a stunning outpouring of emotion and generosity at last year's banquet. It felt as if everyone spontaneously released all the pain, sorrow, fear and emptiness cancer has forced each of us to carry. And miraculously, it was transformed into hope then presented to Dan in the form of thousands of dollars to fight his fight and live his life. He seemed to understand on some level that he was being provided with the means to fight and live on not just for himself, but on behalf of all our loved ones who no longer could. Wow, did he ever! He worked, learned and raced like a man building up to a future championship rather than a man robbed of his future and his championship. Dan wasn't bitter. He was grateful beyond words to all of you for making it possible for him to continue to live his life and use every minute he had to pursue his dreams. Dan was an inspiration.
Next year Dan will be pushing a special person out on track at Canaan. Look for it at the end of the season when every position matters. – Nicholas Leung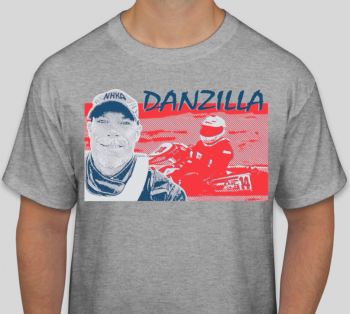 We are all very saddened by the thought of not seeing Danzilla at the track. However, the way he lived his life with so much purpose despite his illness will continue to inspire us for years to come. He wished everyone could feel the power of an entire community's love and support the way he did. He believed it was important to experience the joy and satisfaction of being able to live every day in pursuit of their passions. He wanted doctors and researchers to have unlimited means to cure cancer so everyone has a chance live to see their dreams come to fruition.
Inspired by Dan, we have started a fundraiser to support the Cancer Research Institute. Those who contribute $50 or more will receive a Danzilla t-shirt. Please give what you can http://www.gofundme.com/danzilla
Rest In peace my friend… You will be dearly missed but never forgotten. – Jay Simmons speaking for all of us