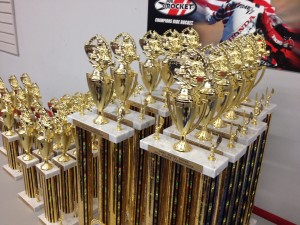 If you're doing it right, as a driver on race day you're doing one of two things: turning the wheel or turning a wrench. It's pretty rare that you have time to checkout the racing in other classes. The exception is the last points race of the season. That's where it gets real. Racers driving like their whole season is on the line – because it is!
Glance at the other classes on in the current NHKA standings and you'll notice that an unusual number of championships are already all but clinched by impressive year-long performances. But if you like a little drama with your racing (and I know you do) you needed only to look at the next several positions to find racers fighting it out for a top-3 championship result. So let me get you up to speed on the points battles to watch play-out on-track this Saturday. (Note: I figured in projected drops where applicable.)
TaG Junior
With 3 wins and 640 points Vincent Fontecchio has likely earned his first karting championship. (Congrats buddy!) However, the battle for 2nd and 3rd for the season is very much on between Kent Vaccaro with 575 points and Stephen Krueger with 530. Isaac Miskoe, who has 505 points, would love to play the spoiler.
TaG Senior
The Prioli steamroller continues to crush it in 2015. Tom finds himself leading TaG Sr., a class he entered largely to gain extra test and tune time for his primary class, TaG Masters. But Tom's 490 points keeps him within reach of Aubriel Poliski, who with 460 points and a bit of racing luck could very well pull off the upset of the season. But let's not forget Kevin Georgantis who is only 50 points behind Aubriel.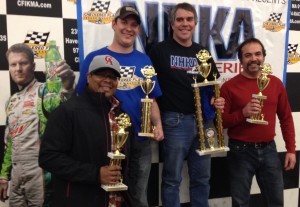 TaG Master
If Tom's Prioli's main goal in 2015 is the TaG Masters title, we can all but declare mission accomplished. In a year that saw a resurgence in the Masters ranks, Tom managed seven podiums, including 4 wins, to rack up 665 points – currently the second most among all drivers in contested classes. The always strong Steve Hathaway is once again in 2nd place with 560 points. However, this year he finds himself under intense pressure from a surging Marciano dos Santos who has 545 points and would very much like to be standing on the second step of the podium he built., as well as Tim Ferraro with 505 points and Carl Daley with 500 points. This is a showdown not to be missed.
2-Cycle Senior
Which class championship has the tightest battle going into the season finale? Which class has two of our most experienced racers, and oldest friends, going head to head with each other and our newest 2-Cycle Sr. driver – Abigail Tobin, a young woman no less? With 585 points, Paul Bowin holds a scant 10-point lead over who has 575 points. Not to far behind lurks Ron Simpson with 545 points. Will old age and treachery come out on top, or will youth and determination take the day? It's another race not to be missed.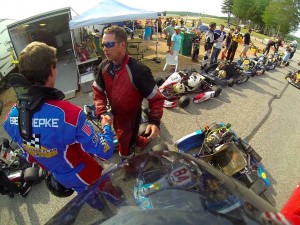 World Formula Light
It's impossible to get too much of the hugely entertaining battle that's been raging all season long in World Formula Light. Dammit Dave Nadeau may only have 1 win, but he has only been off the podium once this year. This remarkable consistency has earned him a 55-point cushion that took him all season to build. Speaking of Dave's consistency, hardly a race goes by without him sharing generously from an icy cold keg of Lefties. This has earned him a special place in the hearts of much of the NHKA community. Behind Dave is Fast Freddie Fawcett and Brett Repke who are tied at 570 points. Brett has managed to keep himself in the championship hunt despite missing two races – but that's what you get when you nail down three wins and three 2nd places in six events. Not very far back is another super tight points battle between Mike Oliver with 535points and Rich Hemingway with 525 points. These are all highly experienced, adult racers, surely commonsense and restraint will be the order of the day. Right?
Best of luck to everyone! Now put on a show!