We very much enjoyed watching the fantastic racing from everyone. The competition was very tight but mostly clean. There were very few on track issues to contend with, and it didn't hurt that the weather cooperated for a change!!!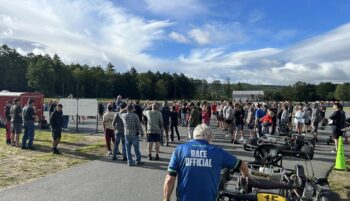 It was a smooth, stress-free event on all fronts. All drivers were on the grid on time and ready to go. There were very few on-track pick ups to make. Plus we were able to end a little early both days giving everyone extra time to relax. We want to thank everyone for the fantastic job!!!!!
Up next is the last points race of the season on September 16th. Some championships are settled already while others are close and will come down to the wire. The points will be updated and registration will open very soon.
Stay tuned also for further details to be announced for the 2nd Annual Endro October 7th. As discussed at the drivers meeting, there will be a 2-hour Junior 206 race in the morning. (2-driver teams only. No solo racers.) Then in the afternoon we will then run a 4-hour race for Senior 206 and World Formula Heavy. drivers in each class. No solo's. (2-3 driver teams. No solo racers.) Morning practice will be limited, but there will be enough sessions for all driver combinations as well as pit stop practice. We will also share base gearing so everyone can be in the ballpark.