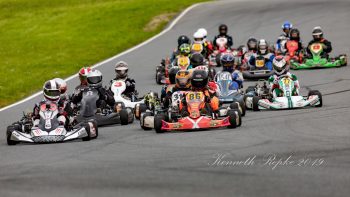 The long wait is over! We have 136 drivers registered for Race 1 of the 2022 NHKA Racing Series season at Canaan Motor Club Saturday. We will be using a slightly different format than usual, so please be sure to read this entire update.
Welcome Back Spectators!
We are pleased to be able to welcome family, friends and spectators back to our events. Pit pass wristbands are required for everyone on the property. They will be sold at the gate ($15 cash only) Friday evening 4-8pm and Saturday morning 6:30am-Noon. Each person must be present to receive their wristband. All minor spectators must be accompanied by a parent or legal guardian, and a 2022 minor waiver must be signed at the gate if not already on file. Spectators are welcome to mingle with the drivers in the paddock and watch the action from the designated viewing areas. However, guests are not allowed in the grid and scale area.
Friday Night
4- 8pm The gate will be open for trailer drop off and camping ($25 cash at the gate.)
No one will be admitted after 8pm, including those intending to camp.
Registration pick up and safety tech will be available.
Those who did not pay for a transponder rental on BikeReg may pay the $25 fee in cash at the gate.
Helper/spectator pit passes will be sold at the gate – $15 cash only. Again, each person must be present to receive a wristband. (No, you may not take loose wristbands home.)
Saturday Schedule
6:30am-Noon Gate opens. (No one will be admitted after 12-noon.)
Use the first gate – there will be a sign. If you are early DO NOT park on Orange Road.
8:30am Drivers meeting. All drivers must attend. Absent drivers will not race. No Exceptions.
8:45am Kid karts should be ready for their first of three sessions, concluding at lunch break.
9am Two rounds of practice by group. Sessions will be 8 minutes (8-10 laps) each.
Lunch Break
Qualifying One 5-minute session per race group.
Final races, 20 laps per race group.
Race Groups
1 Kid Kart
2 206 Cadet
3 World Formula Light and Heavy
4 Shifters
5 206 Junior
6 TaG Senior and Masters
7 206 Masters
8 TaG Junior
9 206 Senior
Technical Notes
Track configuration will be the short track to the left of the grid. Clockwise direction.
No cameras or transponders attached to the driver. No radio communication to the driver.
All 206 engines must have the World Formula exhaust to go on track. NO exceptions.
All TaG engines must conform to the new rule set to race. Rotax EVO configuration only. X30 with the one pc. pipe and Selettra ignition. ROK Cup rules for the ROK G.P. engine.
Event Notes
No bicycles, scooters, skates, skateboards, etc. allowed on the property at any time.
Drivers are responsible for all their guests regardless of age. Drivers will be disqualified for detrimental behavior by any of their guests.
No open alcohol or controlled substances are allowed at any time when the track is open for competition. An immediate ejection from the property will occur. Offender and associated driver will be suspended indefinitely.
Finally, as is the case with all NHKA races, we have limited time and ability to communicate from 5pm Thursday until the morning of the event. We will most likely not reply to emails, Facebook messages and texts. Thank you for your understanding.
See you at the track!