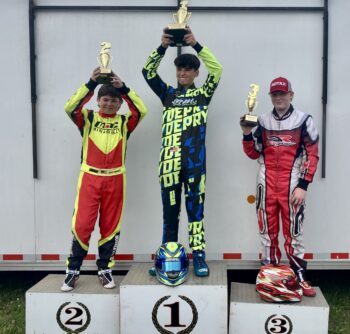 We are certainly being challenged by the weather this season… and mostly getting our butts kicked. But our racers, families, mechanics and friends are resilient at the very least. We want to thank everyone at Kartmainia on Saturday for your patience and understanding to make for a great race day, if not weekend as planned.
After having to cancel Sunday we have issued credits to those who entered. When you sign up for the next event you can apply your credit to your total cart amount when you checkout on BikeReg. The credit will be good throughout the remainder of this season to use for Race 6, 7 or 8. If you registered another way we will credit or refund accordingly.
Our Saturday night cookout and party was well attended and we were happy to serve some BBQ, burgers, and desserts. Thank you all who contributed to the festivities. It was also great to see Cruise LaBrie and his dad Andre. Cruise is healing quite well and is looking great. We all appreciate you guys reconnecting and spending the day with us.
The points will be updated shortly. There are some minor corrections to make through Race 4 in addition to adding Race 5's results.
Registration for the Race 6 and 7 weekend will begin on Wednesday July 26 at 6pm at www.BikeReg.com/NHKA The deadline will be midnight August 15. There will be a normal points races each day.