Annual Enduro Rules
This is the complete rule set for the 2nd Annual NHKA Enduro. Please bookmark this page for race day or download and print the pdf.
Entry
Registration closes Midnight Tuesday, October 3.
$125 per driver includes entry and pit pass.
All 2023 NHKA members (junior and up) are eligible and must enter on www.bikereg.com/nhka
Non NHKA members allowed, but must have kart racing experience. Non-members need to complete a registration form https://nhka.net/wp-content/uploads/2023/03/23RaceRegistration.pdf with a description of karting experience and send to [email protected] Non-members must be approved by NHKA officials before the registration deadline.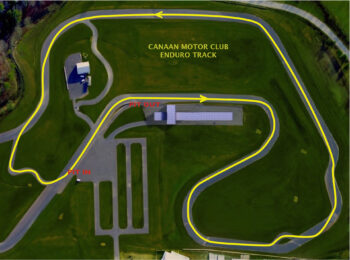 Track
We'll be racing on the Enduro Track counterclockwise. This is the Half Track 2 configuration we ran for Race 8, but using the other infield cut through. So you'll enter the track from the right side of the paddock, merging into race traffic on the second part of the front straight. You'll go through the chicane and down the back straight, passing the first cut through and infield garage. You'll go straight onto the second kart track cut through. Finally you'll go left onto the main straight in front of the Armco. Pit in will be at that end of the Armco, on the left side of the paddock.
Teams
No solo drivers. All drivers must register as part of a team. NHKA will not assemble teams.
All teams must submit a driver roster to [email protected] before the registration deadline.
Any driver roster changes must be approved by the race director before the race starts.
Drivers cannot switch teams or drive for another team once the race has begun.
Classes
206 JUNIOR
2-hour race. 2 drivers. No solo drivers.
One mandatory pit stop for driver change and refueling at any time during the race. Additional stops allowed.
Suggested starting gear ratio: 3.30 – 3.40.
206 SENIOR & WORLD FORMULA HEAVY
4-hour race. 2-3 drivers. No solo drivers.
Pit stops for driver changes and refueling can be performed at any time during the race.
Suggested starting gear ratios: 206 Senior 3.10 – 3.20, WF Heavy 3.20 – 3.30.
Technical Rules
All karts and engines must comply with 2023 NHKA rules for their class.
NHKA fuel and tire rules apply. Teams may use as many tires as they wish.
All karts must pass pre-race safety tech, especially changeable weight attachments.
Safety inspections will be available Friday night and Saturday morning.
Schedule
8:15am Drivers Meeting
8:45-9:10am 206 Junior Practice. No breaks. Hot pitlane.
9:15-9:50am 206 Senior/World Formula Heavy Practice. No breaks. Hot pitlane.
9:30am 206 Junior teams and karts due at pre-grid for random draw for starting positions.
10am Start of 206 Junior race.
12pm End of 206 Junior race.
12:30pm 206 Senior/World Formula teams and karts due at pre-grid for random draw for starting positions.
12:45pm Start of Senior/WFH race
4:45pm End of Senior/WFH race
5:30pm Trophy Time!
Flags
STATIONARY YELLOW FLAG
Warning of an abnormal situation on the track such as debris or a slow kart. Racing continues with passing allowed.
WAVING LOCAL YELLOW FLAG
Drivers must slow down to a safe and controlled speed. No passing. Racing resumes after the incident has been passed and the next flag station does not display a waving yellow flag.
WAVING YELLOW AND RED FLAGS
Officials need to briefly stop karts on track to attend to issue. Karts are to slow and pull up to the overall leader without any passing (i.e., maintain on-track position regardless of scored position or class) and be prepared to stop. The overall leader will be signaled by an official to stop and all other karts will line up nose to tail behind.
Pits will close at the waving of the yellow and red flags. If a kart is already in the pit area the driver may complete the scaling process but the entrance to the fueling area will be closed until the race is restarted. All work must stop on any karts in the refueling area or pits until the race is restarted.
RED FLAG
There is an emergency situation. Drivers must come to a complete stop in a safe manner at the edge of the racing surface and wait for instructions. DO NOT CONTINUE INTO THE PIT AREA. No work or adjustments may be performed on any kart, including those in the refueling area or pits, until the race is restarted.
BLACK FLAG
When shown rolled it is a warning, so knock it off! When waved, the driver must enter the pits, stop in the stop box, weigh in, then when cleared by the scale official proceed directly to the penalty box.
Race Procedures
Lemans-style standing start from barriers along concrete wall at pit out.
Pit stops will be required.
Race will start at the wave of the green flag. Creeping/jumping will be penalized.
Race clock will run continuously regardless of stoppages.
Race will end at designated time.
Pit Stop Procedures
There will be live pitting for driver changes and refueling.
All drivers must enter the pit area at a safe pace, and not touch any barriers on way to stop box.
Drivers must come to a complete stop in the designated stop box.
Engine must be off before the driver exits the kart.
All drivers must cross the scales at their respective weight.
Only the current driver is allowed in the stop box or scales. Mechanics and other drivers may not touch kart until it is cleared by the scale official.
Refueling in designated area only.
Violations
All penalties will be served in the designated penalty box.
Kart must be in penalty box for penalty timer to activate.
No work or fueling during penalty.
STOP AND GO PENALTY
Jumping or creeping the start. Must be served without refueling or driver change.
5-MINUTE PENALTIES
Bumping, pushing or aggressive driving.
Unsafe re-entry/merging into race traffic after pit stop.
Exiting kart before complete stop or engine shutdown.
Engine still running after exiting stop box.
Mechanic/other driver contact before kart is cleared at scales.
Contact with pit entry barriers.
10-MINUTE PENALTIES
Weighing light at the scales
Working on kart during race stoppage.
20-MINUTE PENALTY
Fueling outside the undesignated area during the race.