X1 Outdoors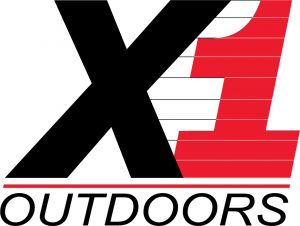 The Interstate Kart Series visits X1 Outdoors (formerly known as F1 Outdoors) three races per season. One of the country's finest sprint tracks, X1 Outdoors boasts high-speed straights plus a wide variety of challenging turns. The track also offers a variety of distinct layouts, its longest being just over a mile. Here's what you need to know to have a fun weekend of racing at this very cool track…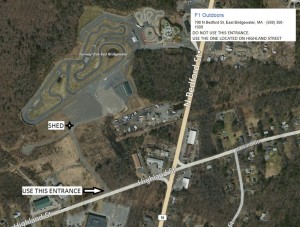 Where:
GPS: X1 Outdoors, 798 North Bedford St./Rte. 18, East Bridgewater, MA 02333
PIT ENTRANCE: Continue past the track south on Rte. 18 then turn right at traffic light onto Highland St. Go about 200 yards then turn right onto a private access road and proceed through gate another 200 yards to the paddock stopping at the shed to buy your pit pass.
Typical Saturday Schedule – Practice
Gates open at 7:30am
Practice by group 9am-1pm
Typical Sunday Schedule – Racing
Gates open at 7:30am
Youth classes warm-up at 9am (Kid Kart, TaG Micro and TaG Mini)
Remaining classes warm-up at 10am
Qualifying, Pre-Final Race, Final Race
Tuesday Open Practice – June, July & August
Gates open at 11:30am
Practice by group 12pm-6pm

Pricing and Registration:
PRE_REGISTRATION: Find them on https://www.motorsportreg.com or pay as you arrive at the track.
PIT PASSES: $20 for one day or $25 for two days.
SATURDAY PRACTICE: $65
SUNDAY RACE ENTRY: $85
TUESDAY OPEN PRACTICE: $125 including pit pass. June, July and August only.
Silencers are Required:
Unfortunately, East Bridgewater has imposed strict noise restrictions on the track, so strict that our 2-Cycle Pipe classes are excluded from running there (we'll miss you guys!) All other karts must be equipped with the correct intake and exhaust silencers. If you are not 100% sure that your kart has these, we strongly recommended that you contact your kart shop or Jeremiah Damon at OnPoint Karting kartcat68@gmail.com. Also, no running engines before 9am Saturday or 10am Sunday (except Kid Kart, TaG Micro and TaG Mini.) To be sure we get to race this great track for years to come, these rules are enforced without exception.
Other Information:
CLASSES: Same as NHKA. Enter your normal class.
TRANSPONDER: Same as you use at NHKA events.
GEARING: Whatever gear you run on the Hill Course is an excellent starting point.
OFFICIATING: This is X1's show, but NHKA officials will be on hand to assist and answer questions.
PIT PASSES: Payable to X1 as you enter.
REGISTRATION: Pay for your races and practices at the same time as you get your pit pass.
CAMPING: Camping is not allowed at X1, however, you may leave your trailer overnight.