New Hampshire Motor Speedway

The New Hampshire Motor Speedway property has been home to the NHKA Racing Series much longer than the speedway itself. Since the early 1960s forerunners of today's club were racing karts on the legendary Bryar Motorsports Park road course. The NASCAR oval was built in 1990 with an integrated 1.6-mile road course that retains key features of the Bryar circuit, such as the famous Bowl turn. The NHKA thrived for years as a road racing club with huge fields and a WKA National. In 2009, with the National gone, attendance down and costs sharply up, change was needed. Enter new owners and veteran racers Lee and Mike Camarra who successfully transformed the NHKA into a sprint series through the development of the 3/4-mile Hill Course, which includes the same Bowl turn that the first NHKA racers flew around more than 50 years ago.
Directions
1122 Route 106 North, Loudon, NH 03307 From points south, take I-93N to exit 15E for I-393E. Take Exit 3 for Rte. 106N. Follow for 9 miles, passing the NHMS South Entrance, turn right into the Main Entrance about a mile further.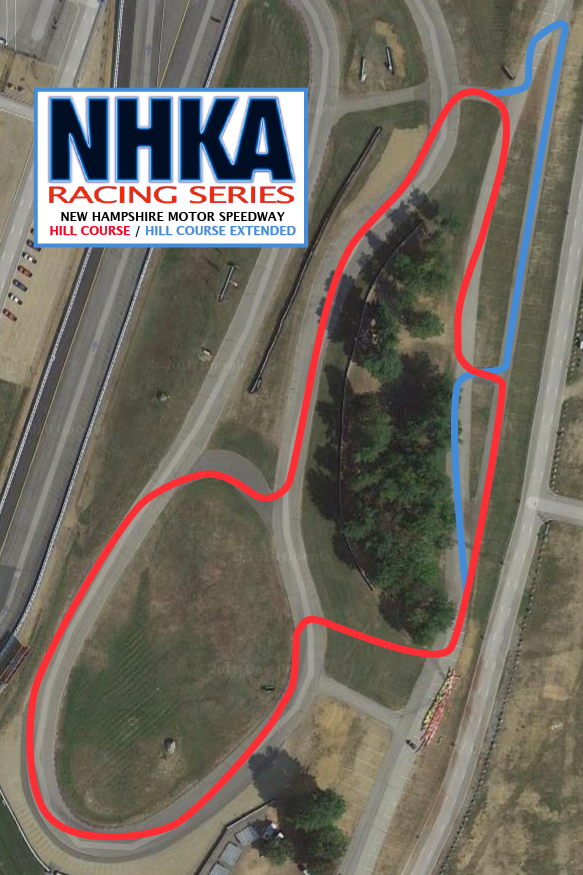 Track Configurations
The Hill Course and its extended version which reverses the chicane and lengthens the main straightaway with a hairpin at the end. It delivers every race driving challenge you can imagine every lap – dramatic elevation changes, long straightaways, a chicane, double-apex turns and "the Bowl" – a high-banked sweeper best taken full throttle. It's a fast, fun rollercoaster ride when raced in either direction.
Typical Race Weekend Schedule
EVENING BEFORE EVENT
5-9PM Gates open for camping or dropping off trailers
Registration and pre-race safety tech open
RACE DAY
7AM Gates, safety tech and registration open
8AM Mandatory drivers meeting
8:30AM Two practice sessions
QUALIFYING
12 NOON Lunchbreak
PRE-FINAL RACES
FINAL RACES
*Times are approximate and subject to change
Important Rules for NHMS
NO RACE ENGINES BEFORE 8:05AM
NO BIKES OR SCOOTERS UNTIL RACING IS OVER
Local Amenities
NHMS is in Loudon, NH, about 14 miles northeast of Concord, NH. In the infield of the speedway there's a restaurant offering ice, breakfast and lunch, including their famous pulled pork sandwiches, there are also card-swipe pumps for race fuel (the track also sends a guy with 5 gal cans of fuel around 8AM… listen for an announcement.) Close to the track you'll find a number of convenience stores, filling stations and casual dining options from seafood, to steaks to pizza and subs. After the race, Loudon is the perfect jumping off point for exploring New Hampshire's Lakes Region and the White Mountains. Bring the family to the race then enjoy a week-long cool-down lap.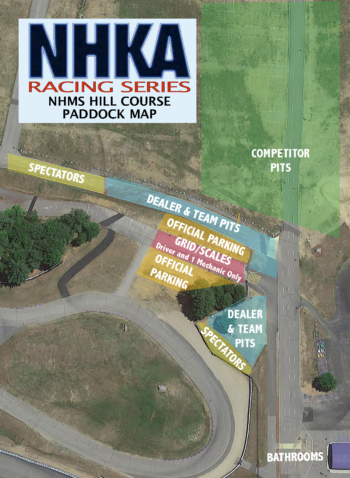 Where to Stay
Racers are welcome to camp trackside for $25, paid directly to the track when you buy your pit pass. There are no electric hookups. Showers are a very short walk from the Hill Course in a new bathhouse. Grills and fires contained by portable fireplaces are allowed.
There are also plenty of hotels within 20 miles:
Abakee Cottages, Weirs Beach, NH 603-366-4405
Comfort Inn, Concord, NH 603-226-4100
Courtyard by Marriott, Concord, NH 603-225-0303
Fireside Inn, Gilford, NH 800-458-3877
Holiday Inn Express & Suites, Tilton, NH 603-286-4550
The Margate, Laconia, NH 603-524-5210
Residence Inn, Concord, NH 603-226-0012
TownePlace Suites by Marriott, Gilford, NH 603-524-5533