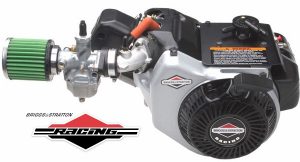 In an effort to maintain the integrity of the class we will be implementing a stricter Box Stock Engine Rule. All engines and engine parts will be as they came out of the box with absolutely no machining, modificatins or alterations of any kind allowed. All new engines will come from your dealer with an official NHKA seal installed. All rebuilds will need to be inspected by an authorized NHKA official. Seals will be marked with NHKA and a serial number. NO ENGINES will be allowed to race without an NHKA seal.
Engines with the current CPG or NEKC seal may run as is. However, once the CPG or NEKC seal is broken for any reason the engine must be inspected by an authorized NHKA official and resealed with the new NHKA seal.
We are still working out some more details and will have an updated rules package for the World Formula class at the banquet or before. Comments and feedback given in a RESPECTFUL manner are welcome.