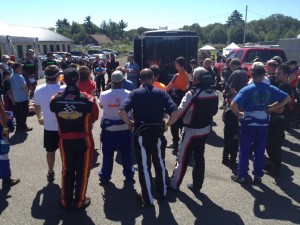 The weather was perfect. The turnout was strong. The track was great. There was intense racing in most every class. It was exactly the kind of fun we knew we knew we'd have with NHKA and F1 clubs racing together.
Thank you to Dave Davies and the team at F1 Outdoors for a well-run event. Thanks also to Jay Dennehy of Signs and Design for sponsoring the trophies. And thank you to Mike and Tina Camarra for hosting a fun cookout Saturday night. Good times!
Next Up: Two weekends in a row on the Hill Course at NHMS. First it will be Race 7 on Saturday August 24th. Then we'll be right back the following week for our big 3-day Labor Day weekend of with the North East Rotax Max Challenge and F1 Club. Watch for both entries which will be posted very soon.