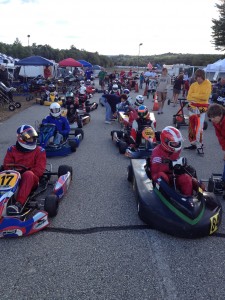 Now that was a pleasant surprise! Looking at the pre-registrations for Race 9 we were expecting pretty much the usual cast of characters… then we opened the gates. In came nearly 20 kids of various ages, more than a dozen shifters, and more new faces for our steadily growing WorldFormula/Yamaha race group (shown). Ya gotta love big fields!
We had beautiful fall weather, everyone raced (reasonably) clean, Tina and Jasmine managed to resist the urge to cause a debris caution with the scoring computer, and as the sun was setting we handed out a pile of trophies courtesy of Plymouth State University College of Business Administration. What wasn't a surprise were the people who stuck around to tear down the track in the dark after a very long day of racing. Our karters are the best!
Now here's the good news: We get to go back to the Hill Course and do it again September 29th. That's soon, so get your pre-registration in today. And while you're at it, pre-register for the season ending Kartfest just a week after that on October 6-7 (details to come soon). The rest of the season's pre-registration forms are available here.