If wheeling a real racing kart looks like fun to you, you are right! This Saturday August 30th is your chance to find out for sure. After we're done racing, we'll be giving the general public the opportunity to get behind the wheel of couple different kinds of karts.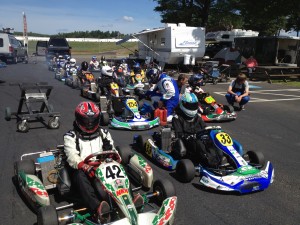 Saturday August 30th
New Hampshire Motor Speedway, S3 Lot Temp Track
$15 pit pass at the front gate or trackside
$10 for 10-lap session
Gates: 7am
Practice: 8:15am
Qualifying: 11am
Heat Races: 12:30pm
Final Races: 2:30pm
Your Lapping Session: 4:30pm (Arrive by 3pm)
**All Times Approximate**
Bring whatever safety gear you have, maybe a sturdy jacket, but we'll have some to loan out. Please wear closed-toe shoes and long pants.
The karts will certainly be Rotax and/or World Formula – our two most popular classes, each typically drawing 15-20+ racers per event.
At the end of the day we'll be having an informal cookout and presenting the day's trophies. Bring some beverages (beer is fine) and join us!
NHKA RACERS: Please spread the word!
If you have any questions, start by reading the details below. If that doesn't answer it, please send an email to mikec@nhka.net or post it to http://www.facebook.com/NHKAracingSeries
We look forward to seeing you there!
Read on for more details…
ROTAX 2-STROKE 28HP: These karts are beastly fast and incredibly fun to race. They are some work and money, but man are they some fun.
BRIGGS & STRATTON WORLD FORMULA 4-CYCLE 15HP: The World Formula is the perfect midpoint between indoor karts and Rotax karts. They are relatively easy and inexpensive, and such a hoot to race.
KID KARTS: These are not a sure thing. But there could be kid karts (5-8 yrs), cadet karts (8-12 yrs) or junior karts (12-15 yrs). If you have kiddo and are 100% about coming, send a note to mikec@nhka.net
THE LAPS: You'll be guaranteed at least 10 laps. It depends what time the races wrap up, how many people come and the number of karts available.
The karts you'll be driving are being volunteered by our racers who are gracious (and brave!) enough to let total strangers of unknown skill and mental state hop into their most-loved possession. So it is understood: THIS IS NOT A RACE! We have shops that rent karts for racing. This is different. This is a lapping session.
THE DAY: Plan on arriving by 3pm at the latest. But please come earlier. We're getting down to the pointy end of the season, and many tight championship battles, so you'll get to see some hard racing.
Ask for me, Keith. I'll be pitted with my blue #127 near where the karts line up to go out onto the track. Please just introduce yourself so I can show you around. You are most welcome to hang out in the pits and talk to the racers. We are all very friendly and eager to help get more people into racing.