We've had some rain, we've started a new regional series and we've had solid fields and tight racing. All and all it has been a great start to the 2014 season for the NHKA Racing Series driven by Checkered Flag Indoor Karting.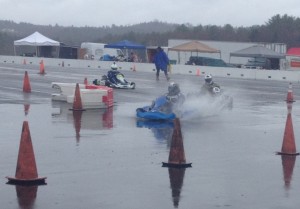 We got the season kicked off with NHKA Race 1 on the S3 Lot Temp Track. The weathermen were predicting rain all week long, and rain we got. But that didn't keep away a sizeable contingent of hardcore racers. The track was slick and the turn 1 puddle was deep, but the day passed with minimal mayhem.
Everyone who came for the opportunity to advance their rain racing skills deserves a shout out, especially the winners: Representing the kid classes were Jet Tobin, Avery Woods, Chase Drinkwater and Stephen Krueger, who all made gains on the clock in the tricky conditions. Daniel Kubic won TaG Jr. while Jonathan Teixeira added another 1st place trophy to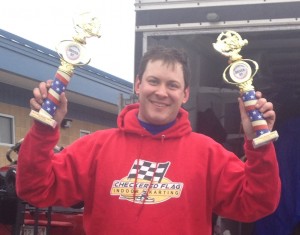 his collection. Charlie Doherty took the honors in shifters while Dave Nadeau put five seconds between himself and the rest of the day's largest field in World Formula Light… proving the value of racing the World Formula Indoor Championship at Checkered Flag all winter. The big winner of the day was Tom Prioli who shared an emotional double win – TaG Masters and World Formula Heavy – with his hard-working crew chief and father Ron. Good stuff! A special thank you to everyone who helped breakdown the track, and to Adirondack Radiation Therapy for sponsoring rustproof trophies.
Interstate Kart Series Race 1
The very next week brought a new championship: the Interstate Kart Series. A different venue: F1 Outdoors. And MUCH, MUCH better weather. It was a fantastic turnout in every class from the kid karts to masters. And there was competition throughout every field, as always whenever NHKA and F1 Club racers come together. The next IKS race is slated for June 7th on the Hill Course at NHMS. You do not want to miss it.