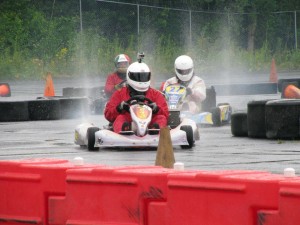 Even though the NHKA Racing Series can't seem to catch a break with the weather, it doesn't keep us from having a great time. We really appreciate everyone who stuck it out in the rain all the way through Sunday… and most especially those who stayed to help pick up the track. Check out the Results page to see details of how you ran.
A big thanks to the weekend's trophy sponsors Adirondack Radiation Therapy and Peggy's Palette. Thanks also to title sponsor Checkered Flag Indoor Karting's Tom Prioli for stepping in as our flagman on Sunday, and for his generous 3-for-free race day this Thursday (8/2/2012). Anyone who mentions the NHKA Racing Series gets 3 free races on the new and improved track. Stop by anytime Noon-9pm.
Our next double weekend, featuring NHKA races 6 & 7, is just around the corner on August 18-19. We'll be back on the S3 lot, and who knows what the track layout will be, so get your pre-registrations in now to maximize your practice time.