Saturday January 25th – Take a Mini Racing Vacation!
Annual Meeting, 2013 Awards Banquet, World Formulas Indoors & RAC 100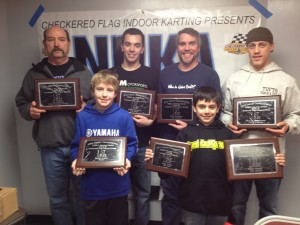 It's way too wet and cold in the garage to do more to your kart than look at it longingly. What you need is a vacation. The islands might be out of the question, but a fun-filled day in Haverhill is doable! From early morning into the evening, it'll be one fun racing event after another for the whole family at Checkered Flag Indoor Karting. We don't mean just watch, we mean jump into the thick of it. There's so much to do, we need you to start right now!
RSVP for the Awards Banquet by this Friday 1/17
It's not required, but it would be a huge help to have a head count. Just send an email to mikec@nhka.net or RSVP to the event on Facebook. The club will be supplying chicken parm, pasta, meatballs and garlic bread. We're asking you to bring a salad, side dish or dessert to share. So far we have kielbasa with peppers and onions, plus cookies. CFIK will have soft drinks for sale, or you can bring your own… this year that means you can bring wine and beer.
Bring Your Ideas to the Annual Meeting
We'll announce the 2014 NHKA Racing Series schedule, hopefully have a preview of F1's dates, and present the new process for World Formula engine work. There's more, and we want your input:
Should we combine World Formula Light and Heavy? If so, what weight would be fair and safe for the most racers?
Should there be NHKA point races at F1 Outdoors? The two clubs are definitely going to continue to work together to make big fields, the question is how. Should each club host a couple of point races for the other club, like last year? How about a separate over-lapping championship of three races at each track (at the same time as club races)? That way those who like both tracks have something to race for, and those who rather stick to their home track aren't forced to travel for points.
Any other ideas? How would you improve things? How can we keep attracting new racers? How would you optimize the classes but not downsizing anyone's kart? We're need creative ideas that are good for everyone, like this…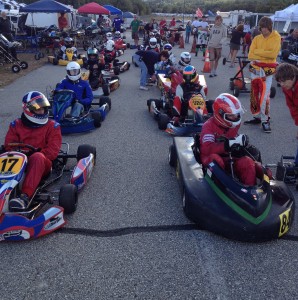 Get a Discount on Your Membership – Now With Automatic Pre-Entries!
Starting in 2014, your NHKA Racing Series membership will allow you to earn championship points, and now also automatically pre-enters you for every NHKA hosted race, gets you the $5 pre-entry discount and into the pre-entry warm-up session. All you need to do is show up, sign the waiver and pay. Easy! Plus you can save $5 on your 2014 Membership at the Annual Meeting.
Be a Winner: Enter the Racing Against Cancer 100 by this Friday 1/17
Every year NHKA racers get behind this great cause. Help us make this year's fundraiser the biggest yet. You can enter the RAC though this Friday's deadline. You can also sponsor a kart, a lap or an entire heat race. You can also contribute items to the raffle, just email Tom Prioli
Come Early to Checkout World Formula Karts Indoors
You've seen the videos, now see for yourself just how fast and slide-ways these things go. Better still, bring your own WF and race yourself. Doors open at 7am, racing starts at 7:45am. Visit CheckeredFlagIndoorKarting.com for more.