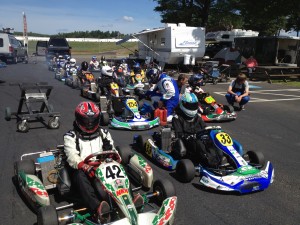 Only 1 week, 19 hours and 43 minutes left until the start of the 2013 NHKA Racing Series season driven by Checkered Flag Indoor Karting… but whose counting?
"So where's the freakin' pre-registration form?" Good question. We will have it posted by Monday. Obviously that doesn't leave enough time to mail it in, so we are asking everyone to complete it at home so the registration process moves as quickly as possible on race morning (meaning, get everyone entered into the system so we can get the heck out on the track.)
"Why the delay in posting the form?" Nobody dropped the ball, quite the opposite. We're putting the finishing touches on some work that'll make it much easier for every current karter in the area to just get out there and race; and that'll also make it much more simple for potential karters to find their way into the sport. The goal is to give you stacked fields of racers every time. All good stuff. We'll tell you all about it in the coming days… stay tuned!