The NHKA Racing Series driven by Checkered Flag Indoor Karting will make the first of two stops at F1 Outdoors this weekend. One of the country's finest sprint tracks, it boasts high-speed straights plus a wide variety of challenging turns. Here's what you need to know about the fun weekend of racing…
Where:
GPS Address: F1 Outdoors, 798 North Bedford St./Rte. 18,East Bridgewater, MA 02333
Pit Gate on Highland St.: Continue south on Rte. 18 pass the track then turn right at traffic light onto Highland St., go about 200 yards then turn right onto a private access road and proceed through gate another 200 yards to paddock.
Saturday August 10th – Open Practice
Gates open at 7:30am
Practice by group 9am-1pm
*Cookout at Mike's: 2pm (See note at bottom.)
Sunday August 11th – Race 6 for both NHKA & F1 Club:
Gates open at 7:30am
Kid classes warm-up at 9am (Kid Kart, Comer Cadet, Micro and Mini)
All classes warm-up at 10am
Pricing and Registration:
Pre-entry: Not available, register and pay at the track.
Pit passes: $20 for one day or $25 for two days.
Saturday practice: $65
Sunday race entry: $85
Classes: Same as NHKA. Enter your normal class.
Silencers are Required at F1 Outdoors:
Unfortunately, East Bridgewater has imposed strict noise restrictions on the track, so strict that our 2-Cycle Yamaha classes are excluded from running there (we'll miss you guys!) All other karts must be equipped with the correct intake and exhaust silencers. If you are not 100% sure that your kart has these, we strongly recommended that you contact your kart shop or CRG America at 781.843.0100. Also, no running engines before 9am Saturday or 10am Sunday (except Kid Kart, Comer Cadet, Micro and Mini.) To be sure we get to race this great track for years to come, these rules are enforced without exception.
Other Information:
Points: NHKA races at F1 Outdoors are no longer for double points. Exactly as we do at NHMS, you will earn points for your finishing position in the final race against all competitors in your class.
Gearing: Whatever gear you run on the Hill Course is an excellent starting point.
Officiating: This is F1's show, but NHKA officials will be on hand all weekend long to assist and answer questions.
Pit pass sales: Payable to F1 at the shed on private access road as you enter.
Race and practice registration: Payable to F1 at the main building near the Fountain Turn.
Absentee points form: Per NHKA Racing Series rules, members can pre-enter events they are unable to attend to receive 40 last-place/absentee points. The cost is the same as regular pre-entries, $45. Please remember that while NHKA members can drop two races this season, only one of those drops can be an F1 event. Click to download the form.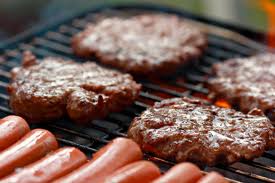 Cookout at Mike's House!
At 2pm, after Saturday's practice, Mike and Tina will be hosting a cookout at their house, which is just 2 miles west of the track. Mike will pass out directions at the drivers' meeting. (Jim will pass out at the party.) Burgers and hotdogs will be served. Bring your own beverages as well as anything special you'd like cooked on the grill. All NHKA and F1 Club competitors are invited to join in the shenanigans. Please RSVP to mikec@nhka.net