Northeast Kart Racers:
My name is Lee Camarra. My decades in grassroots motorsports have lead me to seek election as the Northeast's representative on the World Karting Association's (WKA) Board of Trustees. I feel there is much that WKA could and should be doing to address the needs of Northeast karters.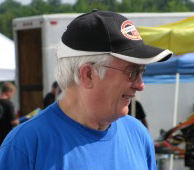 Who am I?
From short-track stockcars throughout New England, to a popular oval series for kid karts I helped run at Seekonk. From my early days as a kart racer with the NHKA Racing Series at Bryar Motorsports Park, to my purchase of the NHKA and the guiding of its transition from a struggling road racing club to one of the most lively sprint series in the Northeast. A past participant on the WKA Road Racing Committee as a race promoter, I know the workings of the WKA and its key personnel. I've always looked for ways to make racing accessible, fair and affordable for enthusiasts of all ages and budgets. With those goals, I'm seeking a three-year term as the WKA District 9 Trustee.
What is a WKA Trustee? What does the WKA have to do with you?
I would represent the interests of all karters throughout New England, New York and parts of Canada (sprint, road race, oval and dirt) at the highest level of the sanctioning body that sets the rulebook followed by the majority of national, regional and divisional series and local clubs east of the Mississippi.
If Elected, I Will:
• Give the karters timely updates on the specific issues being addressed – as they're being addressed, not after.
• Give karters the opportunity to form well-considered opinions and gather supporting facts.
• I will openly receive and use these opinions and facts in forming my own opinions. And as appropriate, I will present with my fellow board members the views and facts gathered from karters to help them also make well-informed decisions.
• To accomplish this, I will create a website, be available via email and the phone, and make an effort to attend events throughout the district to get to know individual karters and learn firsthand about the racing they do and challenges their series face.
Why You Should Care.
So many people dream of racing, and karting puts it within reach of almost anybody. So why aren't more people racing? The problem is that karting has splintered into small groups each struggling to grow on their own, or competing against each other for too few racers. In all the noise and confusion new racers are driven away, and current racers have a hard time being heard. My goal is to get all the district's karters to bring their ideas and concerns to a single table so we can speak with one clear voice. The WKA, while not perfect, is a firmly established organization with the deep resources and wide reach to turn our ideas into action.
What You Can Do.
Trustee selection is a two-step process: nomination in November followed by an election in January. In order to vote, you need to be a WKA member. Paying to join an organization that hasn't appeared to do much for your racing sounds crazy, but it's also the point. To ease the growth of your series, the sport as a whole needs to grow. That overall growth is greatly influenced by the actions of major sanctioning bodies like the WKA. In order to have a say in those actions, you need to be a member and participate in the discussion. As your Trustee, I promise to make sure you are heard.
Act now!
If you're a WKA member in good standing: Please return your trustee nomination form endorsing Lee Camarra by November 30, 2012. If you lost yours, you can print a trustee nomination form by clicking here. Then in January, watch for and return the election ballot.
If you're not currently a WKA member: Unfortunately you cannot participate in the nomination process, but if you join the WKA now, you will be eligible to vote in the trustee election in January. Please printout the WKA membership form by clicking here and return it with your dues ASAP!!!
If you want to be heard: Please send me your name and email address, as well as where and what you race, to leec@nhka.net I promise to use your information only to communicate important information about the election, and if I win, regular updates and surveys about what the WKA can do to improve your racing.
Thank you,
Lee